Reviews: Valentino Will Die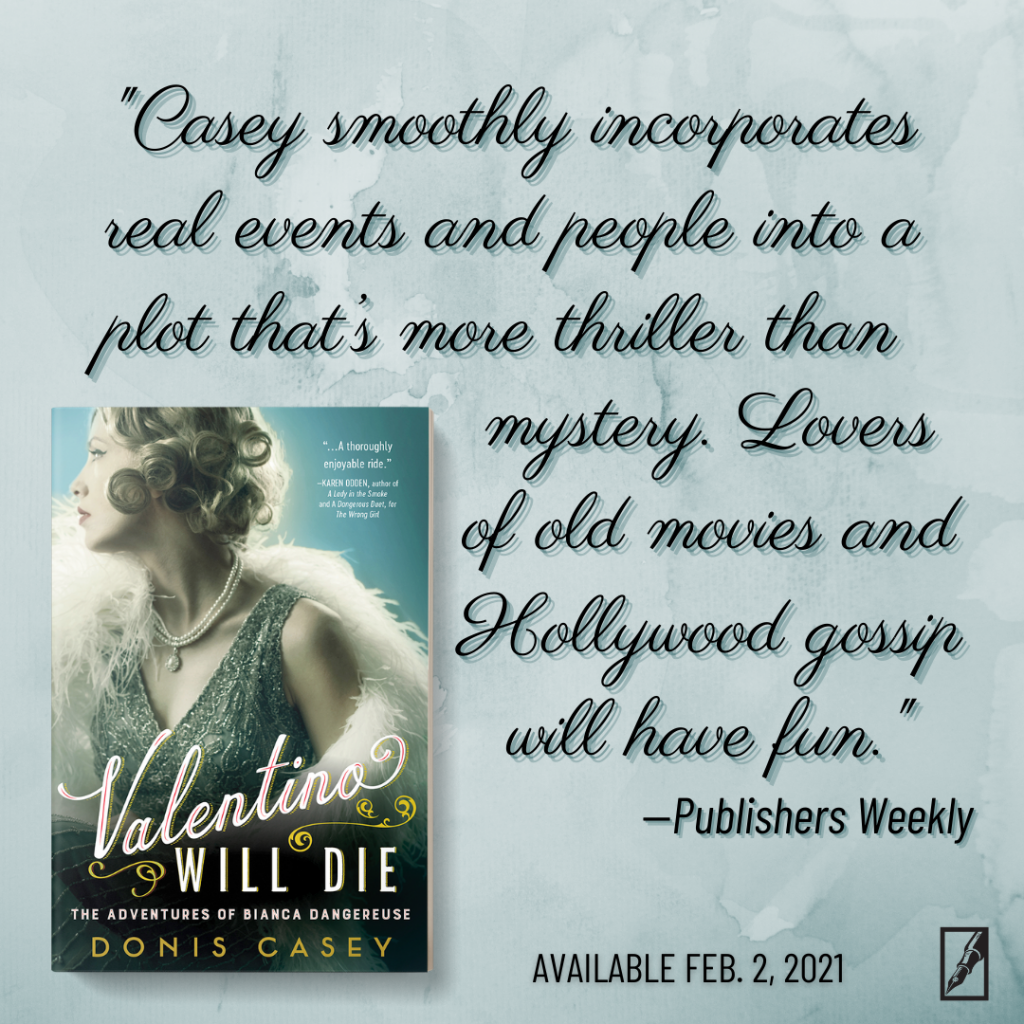 Bianca is a fabulously dramatic and stunning character is actually never very far from her Oklahoma roots. She is fiercely loyal, extremely closed-mouthed, and seriously intelligent. Casey does a wonderful job of sliding her into a story and finishing the story in a new and wonderful way. Such is the death of Valentino, although the read must be wary to remember it is fiction. The plot was good, and the pacing excellent. The other characters were well-rounded enough to play their parts, and, where appropriate, be true to history. Wonderful book. Harkens back to an enticing time in Hollywood! You can't beat it! – Anne R. Marshall, Bookbub.
Hollywood has finally paired the gorgeous Bianca LaBelle, star of the silent film series The Adventures of Bianca Dangereuse, opposite legendary heartthrob Rudolph Valentino. Despite being two of the most desirable people on screen, the pair have never been romantically involved but are very close friends. Bianca knows something has been troubling Rudy, and it isn't just the mysterious illness that has been bothering him for weeks. He confides in her that he has been receiving anonymous death threats. While in New York promoting a movie, Rudy is rushed to the hospital and is gravely ill. He suspects he has been poisoned and pleads with Bianca to find the culprit. Casey's second in the Bianca Dangereuse Hollywood Mysteries series immediately transports the reader to 1920s Hollywood glamour while also showing the gritty reality. The descriptions of film scenes are full of dramatic body language and fast action, making them easy to envision as films from the era. The nod to silent films is represented graphically, too, with each chapter beginning with a short bit of text in an elaborately decorated black box, reminiscent of title cards used at the time. Stars of the day like Douglas Fairbanks, Mary Pickford and Charlie Chaplin make appearances. I hadn't read the first book in the series, but I had no trouble getting caught up in this fast-paced and fun read. There is a brief allusion to Bianca's past but it didn't impair my understanding of the story. I'm looking forward to the next installment." Janice M. Derr, Historical Novels Review, May 2021.
Hollywood society and mobsters mix when a famous actress tries to fulfill her legendary friend's dying wish. Bianca LaBelle, best known as adventure heroine Bianca Dangereuse, and Rudolph Valentino are making their first movie together. The two are good friends but not the lovers the rumor mill suggests. Rudy confides in Bianca, a down-to-earth farm girl from Oklahoma, who overcame dangerous challenges to become a star. Rudy's been getting death threats. He's fed up with his glamorous life but continues to meet his obligations. Bianca suggests that private eye Ted Oliver could help, but Rudy, fatalistic, heads out to promote Son of the Sheik in New York, where he becomes deathly ill. Catching the first train east, Bianca arrives just in time to talk with Rudy, who's sure his fatal stomach problems are the result of poison. His death is chalked up to natural causes, but Bianca's determined to find his killer.
Back in California, she asks Oliver to investigate. He works almost exclusively for a mobster he dares not cross but agrees to do his best for Bianca. Who would want Rudy dead? Given his reputation, reasons Bianca, cherchez la femme. In trying to get close to a wealthy man whose daughter knew Rudy and has run off, Bianca and Oliver visit an offshore gambling ship. The results are enlightening but deadly.
A plausible and exciting premise, famous characters, period movie glamour, and a blockbuster ending. – Kirkus, Feb 2, 2021
First Line: "A rose." Bianca LaBelle and Rudolph Valentino have been friends for years, and since they are the two biggest box office draws inside (and outside) Hollywood, it's a natural for them to appear in a film together. It's a steamy romance called Grand Obsession, and one night while having dinner at Bianca's Beverly Hills estate, Valentino confesses that he's been receiving death threats.
In a matter of days, filming comes to an abrupt halt when Rudy falls deathly ill. Has he been poisoned? As he lays dying, Bianca promises him that she will find out who's responsible. After all, she can enlist the aid of private detective Ted Oliver… and she's inherited her investigative skills from her mother.
As luck would have it, I've had the pleasure of reading back-to-back two historical mysteries set in Hollywood. Donis Casey's second Bianca Dangereuse mystery, Valentino Will Die, is set in the Silent Movie Era and involves the legendary Rudolph Valentino himself.
In reality, film star Bianca LaBelle, the heroine of the wildly popular Bianca Dangereuse film series, is Blanche Tucker, daughter of farm woman Alafair Tucker who was last seen in Forty Dead Men. Living on a farm outside tiny Boynton, Oklahoma, was a fate worse than death for teenage Blanche, so she ran away from home and barely managed to land on her feet in Hollywood. (Readers can find out how that happened in The Wrong Girl.) As much as I enjoy this new series, I'm still fond of Alafair, and Casey cannily includes little clues as to how Bianca's family is doing.
The mystery in Valentino Will Die is a good one, and so is the setting. While readers are trying to guess who's got it in for the world's number one heartthrob, they see a fresh-from-Broadway young Hungarian named Bela Lugosi and get to attend swanky parties. Los Angeles mob figures also make their deadly presence known. Amidst the investigating, there are some laughs when Douglas Fairbanks bemoans being typecast, and Bianca learns how difficult it is to make "a stealthy escape from a crowded room when you're famous." But perhaps the biggest laugh of all came from the description of Bianca's beloved dog, Jack Dempsey, a canine that "could be part prairie dog and part something else. Maybe a mongoose. Or a wig." I hope the little guy makes more appearances in future books.
I enjoy Casey's handling of historical figures, and while the mystery is deadly serious, she has a light touch that's reminiscent of those silent Perils of Pauline-type serial thrillers. Want to know what's real and what's not? Everything's listed at the back of the book. In the mood for a good mystery to solve? Pick up a copy of Valentino Will Die (and I'm not even going to talk about the ending). I can't wait to find out what Bianca gets up to next! Cathy Cole on Kittling Books, Feb. 4, 2021
Donis Casey has penned a fascinating literary vision of the life and death of Rudy Valentino through the eyes of a delightful young woman Bianca LeBelle. Her well-written drama describes a realistic Hollywood community, incorporates many historical figures, and devises a unique theory that Valentino's untimely death was murder. Her scenarios are fascinating and plausible with suspects well illustrated for the 1920s; motives swirl about from New York to L.A. as Bianca channels her intrepid on-screen character to investigate. She enlists a private detective friend in L.A. who has already been hired by a crime boss to investigate Rudy's death. It is made complicated by his feelings toward Bianca and covert efforts to shield her from another murder he's been hired to investigate. The intrigue, misdirection, and compelling details are delightfully painted with a brush straight of the Golden Era in Hollywood making this novel and author a top surprise for 2021! Kathleen Costa, King's River Life Feb. 28, 2021
" I love some mystery… but even more so when you add in some of the 1920's glitz and glamor of Hollywood of that era. Based on actual events, this is a shrouded tale of the sudden death of a silent screen idol named Rudolph Valentino at only 31 years of age. Mixed in with some fiction to create an elusive plot of who would want to kill him. This was a wonderful read. I like to read something in this time period that wasn't war related and I love the mysterious thrill and "thewhodunnit" vibe. I look forward to more books from this Author." Kari Meek, Book Bub, Mar. 7, 2021