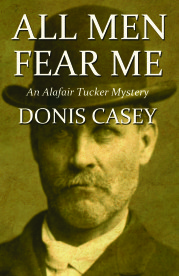 When the U.S. enters World War I, hate and suspicion triumph over rational thought. Alafair Tucker, her husband, Shaw, and their 10 children live in rural Boynton, Oklahoma. Naturally, Alafair is worried about her sons being drafted, but she never suspects that a visit from her brother, Rob Gunn, will cause problems with people she's known for years. Rob is a union organizer who's lying low after his release from an internment camp for his involvement in an Arizona miners' strike. While everyone waits to hear whose number has come up in the draft, strife breaks out between the pro-war patriots, who think anyone with a foreign-sounding name is a spy, and the anti-war socialists, some of whom want to march on Washington and take over the government. Alafair's oldest son, Gee Dub, is a college student willing to do his duty. Her only other boy, 16-year-old Charlie, a firebrand unable to enlist, takes a job in a local brick factory while keeping up with his chores at home. Henry Blackwood, who's staying with his uncle after having arrived on the same train as Rob and a mysterious stranger, becomes Charlie's friend at the factory, where sabotage creates problems in meeting government orders. A black-robed pro-war group, the Knights of Liberty, is vandalizing property owned by so-called foreigners, including Alafair's German-born son-in-law. When one of the Knights is found with his throat cut, Rob comes under suspicion. The Tuckers' relationship with the sheriff keeps him out of jail, but Alafair, who has prior sleuthing experience (Hell With the Lid Blown Off, 2014, etc.), takes matters into her own hands to find the killer before more trouble comes to her family. Casey's skill at making you care about the injustices of a time and place not often covered in history books is second to none. The admirable mystery is the cherry on top. Kirkus Reviews, August 17, 2015
America's entry into WWI provides the backdrop for Casey's absorbing eighth Alafair Tucker mystery (after 2014's  Hell with the Lid Blown Off). Passions run high in the small town of Boynton, Okla., the home of Alafair, her husband, and their 10 children. Patriotic zealot Emmanuel Clover, a Council of Defense member, is on the lookout for those not doing their bit for the war effort. In contrast, Dutch Leonard, a member of the Industrial Workers of the World labor union, opposes the far-off war. Innocent civilians such as German-born Kurt Lukenbach, Alafair's son-in-law, and grocer Aram Khouri are caught in the general distrust of foreigners and socialists by hotheads like Billy Claude Walker. The arrival of Alafair's IWW-activist brother, Rob Gunn, coincides with the unrest, acts of sabotage at the local brick works, and murder. In the middle of it all is "old Nick," a ubiquitous stranger feasting on the conflicts and fanning the flames. Casey vividly evokes a tumultuous moment in U.S. history.  Publishers Weekly (Nov. 2015)
Donis Casey's books are always well written tales with flowing plot lines. She also stays true to her characters. I love following the trials and tribulations of the Tucker family. All Men Fear Me is an excellent addition to the series. I loved the surprises at the end.I highly recommend All Men Fear Me and am looking forward to the next in the series. Mysteries Etc, Oct. 20, 2015
Casey never settles for the simplistic answers. I loved this intense window into the American home front at this crucial moment in US history. We face many of the same issues in our culture today. Casey gives us the fullness of history without ever losing the page-turning excitement of a mystery.
Casey's books offer much more than a who-dunnit—although I always enjoy watching Alafair figure out who the real culprit is. This latest novel continues the historical richness and depth. This time the sophisticated layer of history involves the notion of public opinion—that fearful force the "all men fear" and how it can transform a cooperative society like the town of Boynton into a self-destructive mob. Defining patriotism is a tricky process and not all the residents of Oklahoma come up with a subtle and intelligent understanding. Vigilantes go after citizens with German-sounding names and see spies hiding everywhere. The brick company suffers from sabotage and shift supervisors turn up dead. There is real danger and death, so just where do the boundaries lie? Who are the good guys and who the villains in time of war? And what about the enthusiastic patriotism of young Charlie Tucker, 16 years old and sure he knows who is at the heart of the trouble. You'd guess right if you realize Alafair is never going to let her son face that alone, no matter how much he tries to slip away from her mothering.
Casey immerses her readers so deeply into rural Oklahoma at the opening of the twentieth century that you feel like you're a member of Alafair's extensive family. Every detail rings true from the daily tasks that her characters engage in to the dialogue. I love Casey's combination of family dynamics, Oklahoma farming know-how, multi-dimensional characters, sophisticated twists on history and moral dilemmas, and good old-fashioned mysterious murders. Judith Starkston, Nov. 2, 2015
As with all the Alafair Tucker books, this one is strongly grounded in Oklahoma history. Casey tells the history in detail as the book works up to its unexpected conclusion. The Alafair Tucker books are among my favorites. All Men Fear Me is an excellent addition to the series. Joe Barone, Nov. 15, 2015.
Alafair Tucker has been likened to Ma Joad in Steinbeck's classic, The Grapes of Wrath. In many ways that is a perfect description, and if she is Ma Joad, her brother Rob is Tom Joad. America's entry into World War I seemingly brings all the world's problems right to the doorstep of small Boynton, Oklahoma, and as author Donis Casey describes the world Alafair Tucker and her family are living in, readers are reminded that things really haven't changed all that much in a century.
One of the things that is so much fun in reading this series is the expansion of the Tucker clan. Alafair's ten children are growing up. The little ones are developing their own personalities. The older ones are getting jobs, moving away from home, marrying, and having children. All this growth and all this change certainly widens the series' perspective, but everything is still filtered through Alafair's eyes…
Donis Casey's Alafair Tucker series started out very good (The Old Buzzard Had It Coming) and just keeps getting better and better. I feel that I know what life on a farm in Oklahoma at the turn of the twentieth century was like. I now also have a good idea of how the area fits in with the rest of the country in terms of things like culture and politics. I've come to care about each and every member of the Tucker clan, and I'd no more miss a book in this series than I'd stop liking lasagna. If you're in the mood for an excellent historical mystery series, let me introduce you to Alafair Tucker. She's one farmer's wife who knows how to make lighter-than-air biscuits while she's solving the mysteries that cross her path. Cathy Cole at Kittling Books, Nov. 3, 2015