Reviews: Hell with the Lid Blown Off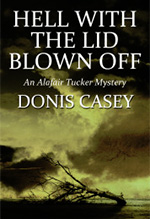 Reviews 
"A huge tornado brings unexpected trouble to the people of Boynton, Okla., in Casey's excellent seventh Alafair Tucker mystery (after 2012's The Wrong Hill to Die On). One day in the summer of 1916, a twister blows Jubal Beldon's body into a field, but no one is very sorry, since he was a most unpleasant man.  When it's discovered that Jubal was murdered before the tornado, suspicion falls on 17-year-old Ruth Tucker's beloved music teacher, Beckie MacKenzie. Alafair, a farmer's wife, uses her innate knowledge of human nature to help, while Sheriff Scott Tucker and his deputy, Trenton Calder, follow their own theories. As the action builds to a surprising denouement, Casey provides an engaging portrait of the close-knit society that was commonly found in the rural Midwest at the time. Alafair Tucker, her large family, and their friends are a pleasure to spend time with." Publishers Weekly  starred review April 14 2014
"Bullying, blackmail and natural disaster: just another 1916 summer day in Boynton, Okla. Boynton and the surrounding areas are typical rural communities with many hardworking people and a small group of troublemakers. The hard workers include the family of ever curious Alafair Tucker (Crying Blood, 2011, etc.). Alafair and her husband, Shaw, have 10 children, a farm and little time for much but work. But when their pretty 17-year-old daughter, Ruth, runs afoul of Jubal Beldon, the oldest of six lazy, crude local bullies, Alafair sets aside her chores and turns sleuth. The musically talented Ruth has been spending time at the home of wealthy, widowed piano teacher Beckie MacKenzie, who's extremely proud of her Scottish heritage and her grandson, Wallace MacKenzie III, who's just come for a visit with his college friend Randal Wakefield. When Ruth is harassed by Jubal and his brothers, she doesn't mention it to her admirer, deputy sheriff Trenton Calder, who's furious when he hears about it. Meanwhile, Jubal, who loves to collect dirty secrets, spices up a church picnic by quietly accusing Wallace and Randal of being lovers. After Wallace gives Jubal some cash and a new moneymaking idea, he and Randal high-tail it out of town. Then it's time for a twister to blow through the area, causing indescribable destruction and killing Jubal and a number of others. Nobody, even his mother, is sorry Jubal's dead—but when the undertaker says he was probably murdered, Sheriff Calder and Alafair must hunt for his killer anyway. A good mystery with an odd final twist is eclipsed by frighteningly detailed descriptions of the terrors of tornadoes."-Kirkus Reviews
"After a devastating tornado in Boynton, Oklahoma, in 1916, Alafair Tucker and her extended family try to evaluate the damage. Then the body of bully Jubal Beldon is found, and it is determined that his death came from wounds delivered before the storm. As Deputy Sheriff Trenton Calder sorts through alibis and time lines, friends protect each other as fast as secrets come to light. The search for suspects leads surprisingly to music teacher Miz Beckie McKenzie, mentor to Alafair's daughter, Ruth. As WWI looms, Alafair watches members of her family and friends grow up and deal with serious problems at home. The many characters and changing points of view are at times mildly confusing, but this edgy historical mystery works as a powerful picture of the times." — Amy Alessio for Booklist, June 1, 2014
"The tornado's destruction is a perfect metaphor for the manmade destruction done by Jubal Beldon. Both forces, unthinking, impersonal, unstoppable, feared when contrasted to the sympathetic, loving Tucker family creates the best mystery novel of the year. It is suspenseful and gripping, with superb writing and unforgettable characters. If you can only read one book this year, Hell with the Lid Blown Off should be that one. –D.R, Meredith for The New York Journal of Books, June 20, 2014
"I do love this series by Donis Casey! Hell With the Lid Blown Off describes the landscape after a tornado hits Boynton, Oklahoma in the summer of 1916. While several people perished due to the tornado it looks like the town bully was murdered before the tornado hit then was blown to a new location. Alafair Tucker and the local lawmen are left with an abundance of suspects in this murder of a highly unpopular man. Even his family members cannot be ruled out as suspects.
Ms. Casey does an excellent job of representing the state of Oklahoma in 1916 with regard to language, customs and the general way of life. I look forward to each book in this series, which are all very well written, for the history, for the mystery and for the great story. Fabulous series from Poisoned Pen Press! Be sure to read this entire series." Mysteries,Etc., April 26, 2014
"Ms. Casey writes more about the people involved than she writes of the mystery. You get swept up in the story of their lives, motivations, and you worry about them. Jubel is mean man. He and his brothers bother a young girl turning into a woman by making suggestive comments to her. When she ignores them and tries to get on with her life, he suggests telling everybody that he's laid with her and thereby ruining her reputation and any chances for marriage. He blackmails a young man who has a male friend with him while visiting his aunt by saying they have a homosexual relationship. He forced another family to fire their help and send their "slow" boy away by insinuating the son was sleeping with the help. There's no end of suspects in his killing.
Trying to solve a murder is hard enough to do on its own, but now they are picking up pieces of homes, trying to rebuild, and squishing families together in the homes that still stood. How can they investigate if they can't even get the road cleared?" Jo Ann Hakola, The Book Faerie, May 8, 2014
"I love this book. The sense of place, the historical detail and the "who done" it, all combine to make a fabulous read." Cayocosta72, Book Reviews, May 8,2014
"Hell With the Lid Blown Off is a bit of a departure for author Donis Casey, and it's one of her very best books in this excellent historical mystery series…The lead-in to the tornado was nerve-wracking, as were the scenes of the tornado itself. With the alternating chapters, I kept getting the feeling that we were saying good-bye to some of these characters, and yes– I was worried. I lived in tornado country, and the scenes depicting the storm brought back some bad memories. Hell With the Lid Blown Off is a fine blend of characterization, mystery, and setting that involves a reader's mind and emotions. Now that I've caught my breath, I can't wait for my next visit to the Tucker farm." Cathy Cole, Kittling Books, June 2014.
"Alafair Tucker is a no-nonsense amateur sleuth, devoted to her large family in pre-World War I Oklahoma. All the characters are well-drawn and spunky…In the shadow of the coming war, the Tucker family remains as strong and entertaining as ever. And you'll never complain about housework again after reading what Alafair does in a day." Roberta Alexander, San Jose Mercury News, June 10,2014.
"Well recommended to fans of life on the prairie and mysteries in general." Ruta Arellano, Joseph's Reviews, June 17, 2017
"The continually evolving and growing Tucker family is part of the backbone of Boynton, Oklahoma. Hardworking, generous, loving, and moral…Early twentieth century Oklahoma may well be as foreign to readers under fifty as a setting in another country, but author Doris [sic] Casey does a masterful job of establishing the landscape and making us comfortable with it. The large number of characters, rather than confusing, actually serves to bring a certain reality to the setting. All of us are used to being frequently in places where we know a few people well, many more from shared interests, and most by nodding acquaintance – that's pretty much how this novel works. And it works well. The mystery and its resolution are challenging and satisfying… a well-grounded and nicely presented series." Diana Borse, June 2014,  Reviewing the Evidence.
"While the Tuckers are stoic as they face the rigors of living in rural Oklahoma, the warmth that they share as a family is reflected on every page, making this book a pleasure to read. Even when times are tough, the depths of the family's bond gives hope to the reader that they, and the rest of this hardscrabble frontier town, will come out stronger on the other side of the storm." Vanessa Orr for Mystery Scene Magazine, June 26, 2014
"This book was an incredible thrill ride through an amazing array of characters and an unforgettable plot that had me on the edge of my seat. It has only been recently that I have started to pick up more and more mystery books and this story makes me want to pick up even more." Kristi Benedict for Feathered Quill Book Reviews, July 5, 2014
"WOW!!!! I can say more but Ms. Casey, you really put a great book together this time. Hell with The Lid Blown Off is one of the best books I have read, even though I sort of knew what was going on. I sat down to read your latest book, and figured I would read it in just a short few days, a little at a time, but when I started reading it I could NOT put it down. I finished one night of reading because I was too sleepy to stay awake, picked it up the next morning and couldn't put it down until I finished it." Claudia VanLydegraf for Myshelf Reviews, July 30, 2014
"I loved this book; it's as much a saga of an American community under great natural and personal stress as it is a mystery novel. And that saga of disaster is so well detailed and comprehensively recited that it feels at one and the same time as if it were ripped from today's headlines and related as a myth from the deepest heart of our history." Joanne Dobson for Historical Novel Review, Nov. 2014