Reviews: The Wrong Hill to Die On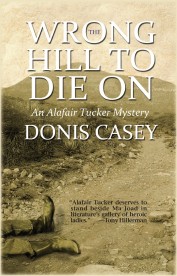 "Casey's warm and wise heroine handles her multiple roles gracefully." Publisher's Weekly, December, 2012
"The Wrong Hill to Die On is a gentle, gracious mystery, yet it takes on the hate-filled issues of racism and anti-immigration phobias. It also focuses on the themes of family strength, mother-child bonds, and the makings of durable marriages. All that but it isn't the least bit heavy or preachy—Donis Casey manages to slip worthwhile ideas into her engaging plot without weighing down the tale. You'll be turning the pages quickly."  Judith Starkson at http://www.judithstarkston.com/reviews/review-of-the-wrong-hill-to-die-on-by-donis-casey/
"Yes, there is a lot in this book, and I enjoyed every bit of it. I enjoyed experiencing life in Arizona shortly after it became a state and traveling down unpaved roads that bear absolutely no resemblance to the streets they are today. The inclusion of Hobart Bosworth and his crew who were filming a movie called "The Yaqui" on the streets of Tempe was a very special treat.
The author is also adept at bringing in bittersweet moments and feelings of dread when the date for America's entry into World War I draws ever closer, or when Shaw begins planning the things he and Alafair can do when the children are all grown. I've become quite attached to all the Tuckers, and I care about what may happen to any one of them in the future.
If you enjoy historical mysteries that have strong characters and that really give you a feel for life in America during the 1910s, I cannot recommend this series highly enough. Even though this book can stand well on its own, you really shouldn't miss any part of the life and investigations of Alafair Tucker." Cathy Cole at Kittling Books, Nov. 6, 2012,  http://www.kittlingbooks.com/search?q=wrong+hill+to+die+on
"Alafair Tucker and her family continue to entertain in down-home mysteries rooted in our rural past and leavened with a big dose of humor." Roberta Alexander, http://www.insidebayarea.com/timesstar/ci_21967956/its-mystery-new-titles-from-charles-todd-donis  Oakland Tribune 11/09/12
"The history embedded in this informative story reveals more than I ever knew about the Southwest just before World War I. Facts are woven into the story line with ease, and add depth to the times depicted. The Wrong Hill to Die On is a really good read."  Mary Ann Smyth for Book Loons , Nov. 2012.
"My favorite characters were Alafair and Shaw, the husband and wife.  They know each others strengths and weaknesses and they work together as a team.  The best part of the whole story is when they come home, but you'll have to read the book to get all the details.  It's worth it."  Reviewed by Jo Ann Hakola at Book Faerie,  Oct., 2012