Reviews: The Old Buzzard Had It Coming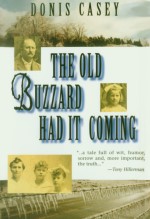 Poisoned Pen Press
Large Print Trade pbk, ISBN: 1-59058-183-0, $22.95 US, $29.95 CAN, 385pp
Trade Paperback, ISBN: 1-50958-311-6, $14.95 US, $19.95 CAN, 228pp
"As an Okie farm boy of the dust bowl depression days, I can testify that Donis Casey sounds like she's been there and done that. She gives us a tale full of wit, humor, sorrow and, more important, the truth. Her Alafair Tucker deserves to stand beside Ma Joad in Literature's gallery of heroic ladies." -Tony Hillerman-
"Donis Casey's debut mystery is as vivid and unforgettable as a crimson Oklahoma sunset. The Old Buzzard Had It Coming is a book to savor, lyrical, authentic, and heartwarming. -Carolyn Hart-
Occasionally a book comes along that is so unusual, so unique, so downright warm and homey, that the reader falls in love with the characters, the setting, the plot, the language; in short, everything about the story is so lieable that the reader can't stop turning the pages. The Old Buzzard Had It Coming is that kind of book …This is a delightful book whether you read it as a Western or as a mystery. August 2006 issue of Roundup Magazine
Mystery readers everywhere, rejoice! This first of the Alafair Tucker mysteries introduces an engaging new heroine to treasure. Set during the cold winter of 1912 on the Oklahoma frontier, Alafair Tucker is a farm wife and mother of nine. She determines to discover the murderer of an abusinve neighbor, even when the clues point to his eldest son, who Alafair's daughter Phoebe loves and who is hiding in one of the family's outbuildings.
…Casey's novel brims with wit, humor and the occasional devastating sorrow. Alafair and Shaw and their wholesome brood stand in sharp contrast to the murdered man and his family. Their children run through houshold duties as if sired by the Gold shoe Bunny so their mom can work her inverstigation around the authorities and the expectations that she'll stay within her female sphere. She works those expectations to her own advantage. Alafair is naturally curious, wise, and a bit too courageious for her own good now and then, when she's also lucky. If the wholesome meter gets to tipping, a welcome touch of magical realizsm saves the novel from sentimentality. A deep pleasure to read, and a few of Alafair's recipes are included! I can't wait for the next adventure of this original new sleuth. Highly recommended. – Eileen Charbonneau for the Historical Novel Society
This delightful first novel … is one of the reasons it is so exciting to check out new writers. Every now and then you find a gem such as "Buzzard"… All of the characters are well-drawn, and even the minor ones have personality … Along the way, we learn a lot about life in rural Oklahoma. Who knew I'd find the details of washday so fascinating? It is, in fact, the details of "Buzzard" that make it stand out. The conversations between Alafair and her husband, Shaw, are both rooted in their time and perfectly plausible to any parents of adolescents. The book works on several levels. There's a credible murder mystery, a well-constructed background filled with intriguing details and great characters who stay in the mind after the book is closed. I look forward to Alafair Tucker's return. – Roberta Alexander for the West County Times, Contra Costa, CA
Casey has several things working for this book. The mystery plot is well organized and reasonable, with a pleasing number of surprises tucked inside. The author has a superb voice in which to tell her story. She knows the phrases and jargon of rural Oklahoma, and she knows how to use them. Her words are neither patronizing nor artificial. Alafair is a strong country woman, a good wife to her tolerant husband, a protective (and fairly young) mother to nine children, an anchor in her community, a woman stretching a little at the frustrating restraints of her time and place. She's a readable heroine, indeed. The book is filled with many characters who are filled with potential. Maybe some of them will be back in new stories. Ann DeFrange for The Daily Oklahoman, Oklahoma City, OK
Alafair Tucker, a competent farmwife and sympathetic mother of nine, takes it in stride when twin daughter Phoebe brings handsome John Lee Day home. He's from the less prosperous neighboring farm, and his pa is a known drunk — as well as a wife and child beater. When Pa's corpse is found in the snow, Alafair, who helps the widow prepare the body, discovers that the man was shot. With John Lee as the prime suspect, she's afraid Phoebe may have been mixed up in murder, too. Set in 1912 Oklahoma, this first novel, which was named the Best Unpublished Mystery of 2004 by the Oklahoma Writers' Federation, should please even the most demanding fans of historicals with its authentic situations, fully drawn characters, and clever plotting. –Library Journal, June 1, 2005-
The Oklahoma winter of 1912 is only a shade tougher than sleuthing farm wife Alafair Tucker.
You'd blame well better be tough when you've got a husband and nine kids to do for on a farm only a few notches up from hardscrabble. On top of that, suppose you have reason to believe that one of your kids — maybe the gentlest and most innocent of the lot — is complicit in a murder. Seventeen-year-old Phoebe, her mother suddenly comes to realize, has fallen head over heels for John Lee Day, a troubled boy from the neighboring farm. What troubles John Lee most is his rascally father Harley, a bottom-feeder who abuses and exploits him. But now somebody's done John Lee the favor of pumping a bullet into the old buzzard's worthless skull. That someone could well have been young John Lee, tormented once too often, maybe aided and abetted by love-stricken Phoebe. Faced with a situation so full of dismal potential, what's a mother to do but turn detective? Tough and durable, she's also bright and quick and, like the English counterpart in whose tradition she takes a comfortable place, confident of the intuitive powers she flexes on the ample supply of Harley haters in nearby Boynton and environs.
A promising debut, with homespun Alafair starring as a countrified Miss Marple. –Kirkus Reviews, May 15, 2005 –
This debut novel is a remarkably tactile historical mystery … A lot of writers of historical mysteries tell us about the places their stories are set in; Casey actually takes us there. – Booklist–
Readers get a taste for early twentieth century frontier living in The Old Buzzard Had It Coming. Alafair is a delightful character; a tigress, who will protect her cubs and doesn't care if she puts her life in danger while questioning lowlife customers of Harley. The historical research that serves as a foundation to this work makes the storyline believable and earns Alafair her own series. -Harriet Klausner for Blether Book Review–
Life on the Oklahoma frontier in 1912 was anything but easy, yet Casey's sweet-tempered debut manages to make readers nostalgic for simpler times. … The appealingly homey world Casey creates rings true. With so much going for her, readers will be right pleased to see a sequel. Publishers' Weekly
Under Donis Casey's gifted hand and shrewd historic eye, Tucker adds solving a mystery to her busy schedule. It all could easily have gone soft and cute, especially the many long visits to the Tuckers' fellow farmers. But by avoiding the built-in traps, Casey has produced a sharp and suspenseful first novel. – Chicago Tribune
"[with} the writing, descriptions and dialogue evoking the turn-of-the-century frontier setting, it is good reading. The mystery, when finally solved, is completely unexpected…" [when it comes to the books recipes]… "I don' know which is more mouth-watering: the novel or the food." – Theodore Feit – "Dorothy L" e-group.
"…I have noticed the use of food in more of the the books recently. There are mysteries where the protagonist is a chef, or runs a catering business, and one book I just finished, The Old Buzzard Had It Coming by Donis Casey, has several yummy recipes at the end of the book as well as interesting scenes that have preparing food as a backdrop while farm wife, Alafair Tucker attempts to learn who killed the much-hated Harley Day. Casey's well-constructed mystery is a period piece set in 1912 Oklahoma, and warns at the beginning of the recipe secion "these are not health foods". And they sound delicious. The mystery was quite good, too." – "Key Ingredients", posted by Karyn on book-concerns.kaios.com June 8, 2006
It's obvious Donis Casey has a deep love for Oklahoma.  It's also obvious that Casey — a former University of Oklahoma academic librarian — has a gift for plotting, is a natural born story teller and knows the Sooner state history well.  Casey's gifts afre evident in her first novel, The Old Buzzard had It Coming. Casey's Alafair Tucker is a unique character with depth and intelligence.  She's strong, makes a mean peach pie and can gossip with the best of 'em …Full of energy, despite being the mother of a bunch of kids, Alafair is sorta' of a red dirt Sherlock Holmes.  She's willing to follow a single strand of a clue until she discovers the end.  And. because this tale involved her daughter Phoebe, Alafair is willing to do just about anything to protect her child… " Norman Transcript, 2006.
The Old Buzzard Had It Coming is set in a 1912 Oklahoma farming community. Donis Casey returns us to a time when family and community were respected and embraced. In this, the first of the Alafair Tucker Series, we are introduced to Alafair and Shaw Tucker, along with their nine children.
As it is in all large families, Shaw rules the farm, but Alafair rules the household. Alafair is a strong, opinionated woman who'd fight the world to protect her children….Donis Casey writes a colorful story of farm life in 1912 and spices it up with a "scratch your head" murder mystery. At the end of the book she includes some mouth watering recipes from Alafair's kitchen.  http://sherryswebofmurder.blogspot.com/p/reviews.html July 2011