Reviews: The Sky Took Him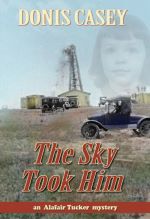 An Alafair Tucker Mystery
Poisoned Pen Press, 2009
Hardback: ISBN-10: 1-59058-571-2; ISBN-13: 978-1-59058-571-9

Set in Enid, Okla., in 1915, Casey's smart fourth whodunit to feature farmer's wife Alafair Tucker (after 2007's The Drop Edge of Yonder) sensitively evokes smalltown life. The impending demise of Alafair's ill brother-in-law, Lester Yeager, raises concern about the future of the family storage company on the part of his prospective heirs. One of them, Yeager's son-in-law, Kenneth Crawford, has embezzled money from the company. Then Crawford's corpse, lacking any obvious cause of death, turns up in a meat locker. Tucker once again adds her insights into human nature to the official investigation, before arriving at a solution that most will find both logical and surprising. Since the murder occurs well on into the book, readers whose focus is on crime may be a little impatient for something beyond family dynamics and dysfunction to happen. Those who like their puzzles cloaked in local color from a different time will be amply rewarded. Publishers' Weekly, Dec. 8, 2008 – starred review
…The Sky Took Him touches on mystery, history, family realtionships and some really great sounding meals. This is the 4th Alafair Tucker mystery and the best so far. – Pat Reid for Books'n'Bytes
As her readers will recognize, Alafair's strong psychic abilities are a integral part of the story, and in a delightful almost off hand style, Casey reveals that Alafair's youngest daughter Grace, still a toddler, shares her mother's psychic insights.
Casey's books are a nice combination of historical settings, a strong capable woman as protagonist, and a pleasant portrayal of a loving extended family. – Woodstock's Blog, Books Update, Auguest 20, 2008
The latest Oklahoma historical amateur sleuth story (see THE DROP EDGE OF YONDER, HORNSWOGGLED and THE OLD BUZZARD HAD IT COMING) is a fabulous entry in one of the best continuing WWI era sagas. The story line as always gives the audience a sense of place and time as for instance the events in Serbia last year seem so removed from the current events in Oklahoma. The mystery of the vanishing in-law is filled with twists that stun the mother and daughter detectives as the links go back to the last decade of the previous century. Fans will fully appreciate this strong story while thinking the sooner Donis Casey writes her next Tucker tale the better. – Harriet Klausner, November 2008
I love this series and was pleased to find that this entry was just as intriguing and informative as ever. My grandmother grew up in Oklahoma near the setting of Boynton (Alafair's home) and all the period detail rings very true to me. The book includes lots of extra information at the end as well as several recipes. Two of them were most familiar to me, as I ate lots of Gumbo Soup and mashed butternut squash at my grandmother's table. Alafair is a strong, courageous woman with moral fiber aplenty. I look forward to reading about Alafair and her family for many years to come. – www.myrandomactsofreading.blogspot.com, January 22, 2009
Casey is at her best in character descriptions, with Alafair – the mother of twelve – a believable and sympathetic character, and her twenty-two-year-old daughter Martha, representative of a new and very different generation of woman.
iloveamysterynewsletter.com, January, February, 2009 reviews.
…this book is more than a mystery. It's also a study in family relationships. Alafair and Martha take a hard look at their own mother-daughter relationship and communicate their feelings about life and death, the love of parents and children, of untold dreams and hopes for the future. The Sky Took Him is an awesome book that contrasts a gripping mystery with the story of a caring, loving family. Balancing page-turning suspense with passages of love and laughter, this is one of the year's best books. –
Special thanks to guest reviewer Betty of The Betz Review for contributing her review of The Sky Took Him.
Review Copyright © 2009 — Hidden Staircase Mystery Books — All Rights Reserved. www.mysteriousreviews.com Oct. 10, 2009.
Ms Casey has woven another fascinating mystery story, entwined with the history of twentieth-century, Oklahoma. The author touches on the changing role of women in America's pre-war period. Casey's ability to tell a compelling, believable tale of a simple farm family and wrap it around historical facts, is nothing short of brilliant. http://sherryswebofmurder.blogspot.com/p/reviews.html July 2011