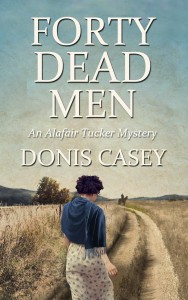 In Casey's excellent 10th Alafair Tucker mystery (after 2017's The Return of the Raven Mocker), 22-year-old George W. "Gee Dub" Tucker, a WWI vet scarred by his war experiences, returns to the family farm in Boynton, Okla., run by his parents, Alafair and Shaw, with the aid of their large brood of children. One day, Gee Dub meets Holly Johnson, a wary traveler who's making her way from Maine to the nearby town of Okmulgee, where she thinks her husband Dan's family lives. Dan, who served in France, disappeared after the war ended, and she wants to discover what happened to him. Gee Dub tries to help Holly find Dan, but becomes the prime suspect when Dan turns up shot to death, and Alafair determines to clear him—or, if he's guilty, destroy the evidence. Casey expertly nails the extended Tucker family—some 20 people—and combines these convincing characters, a superb sense of time and place, and a solid plot in this marvelously atmospheric historical.–Publishers Weekly starred review, November 18, 2017
Oklahoma farm wife Alafair Tucker is delighted that her son Gee Dub (short for George Washington) is home from WWI, despite his distracted demeanor. The only spark of life Alafair sees in Gee Dub occurs after a young woman traveling from Maine asks for directions to her husband's family a town away, and Alafair insists the girl rest at the Tucker's farm before continuing her journey. When Holly does find her husband's family, she learns he died of influenza before he ever made it home—except the picture Holly carries of her groom isn't of the dead man who had her husband's discharge papers in his pocket. The real husband is soon found shot to death, and a disoriented Gee Dub is the only suspect. A compassionate look at PTSD, this tenth series entry again showcases the savvy mother hen Alafair, who has a lot in common with Mette Ivie Harrison's Linda Wallheim, another loving western mother whose curiosity and common sense always come in handy.— Karen Keefe. Booklist, December 1, 2017
George Tucker doesn't know what he wants when he returns to the family farm in Boynton, Oklahoma after serving in World War I. He has blackouts and is hiding from memories of things that happened in France. George, known as Gee Dub by his family, retreats to a quiet wood every day to get some quiet and avoid his mother's insightful questions. One day, he sees an exhausted woman walking in the rain. His protective instincts take over and land him in a world of trouble. Fortunately, his mother, Alafair, has experience investigating crimes. Forty Dead Men, by Donis Casey, is the tenth book in the series…
The characters in Forty Dead Men are my favorite part of the novel. Even though this is the tenth book in the series and I haven't read any of them, the characters are fully realized. I felt for Gee Dub, who is clearly a good man but who doesn't consider the possible consequences of his actions. He struggles with post-traumatic stress and a brain injury. I also felt for Holly Thornberry, the woman who was walking in the rain. She is he unfortunate victim of an unscrupulous man. She is even less considerate of consequences than Gee Dub, which makes them an entertaining pair to watch. Gee Dub was always there to rescue her when she did something dramatically foolish. Alafair, however, is the beating heart of this book. (I expect she is in every series entry.) She is sharp and deeply caring. She'll do anything to protect her kin. When Gee Dub gets in trouble, she mobilizes her vast family to help him. No one can resist her—at least, not for long.
I enjoyed Forty Dead Men a lot. More than I expected, to be honest. When I first learned that the primary detective was an Oklahoma grandmother, I was dubious. I requested this book from Edelweiss because of the soldier-with-PTSD element. The more I read, the more I liked Forty Dead Men. The mystery (which I have tried not to spoil in anyway in this review) is wonderfully constructed. It kept me guessing right to the end. And that ending! It was….I'm afraid any adjective I use will give things away. Let's just say that I thought the ending was terrific. A Bookish Type, January 11, 2018
Forty Dead Men is the tenth Alafair Tucker mystery by Donis Casey. This is a wonderful historic mystery series set in Oklahoma. I have read most of the books in this series and enjoyed them all.
Forty Dead Men finds the Tucker family at the end of World War I. The flu epidemic is raging so it is not surprising when a dead body is found at the side of the road. It turns out to be the body of a man whose wife G.W. found wandering in the field. Holly, the woman, had come from Maine to find her husband who deserted her after the war. Once Holly looks at the body she realizes the man is someone else. So what happened to her husband?
Really enjoyable period mystery. I loved all the twists. Always enjoy Alafair Tucker's sleuthing. This time she needs to save her son G.W. from a charge of murder.
Highly recommend Forty Dead Men. Kathryn Poulin, Mysteries etc., Jan 11, 2018
Forty Dead Men is a tragic, bittersweet story of a returning veteran and PTSD. While there's a mystery, the story actually revolves around Gee Dub. Even if you haven't read the previous Alafair Tucker mysteries, you can pick up this book. And, if you're a fan of the Ian Rutledge mysteries, you might want to meet another veteran of World War I. Lesa's Book Critiques, February 5, 2018
This latest of the Alafair Tucker mysteries sees Alafair's son, Gee Dub, home from WWI. Unfortunately, although he reconnects with his large family and puts on a good face, Alafair knows something is wrong with her strong, quiet son. When he finds a young woman in a field behaving oddly and brings her home to his mother, the situation only grows worse. Alafair befriends the woman, but then a murder is committed and suspicion falls on Gee Dub. Even Alafair has her doubts when she finds an ammunition case that generally holds forty bullets, but now holds only one, which then goes missing.
Soldiers have always suffered from PTSD. In WWI it was called shell shock and Gee Dub has more reason to suffer from it than many. He often struggles with what is real and what is not, but even so, this story holds some surprising twists and turns.
This is a powerful story of family, love and kindness, and hardship, too. Not to be missed. Lelia T. at CNC Books Blog, Sept 22, 2018
It's always a stellar day when there's a new Alafair Tucker mystery to be read, and Forty Dead Men continues this tradition. Donis Casey is a master at crafting book titles that grab a reader's attention and imagination, and once this newest title is explained, most will feel a little chill run down their spine.
Post-traumatic stress disorder is woven deftly into this story in which life on the farm for most of the Tuckers seems completely unchanged by the war. Gee Dub is having difficulties dealing with his experiences fighting in France, and the appearance of a lone woman trudging down a dirt road in the rain gives him focus, a quest. If he can fix what's wrong with Holly, perhaps he can fix what's wrong with him.
It's no surprise that the mystery is a good one in Forty Dead Men, and I happen to think that Holly's runaway husband is one of Casey's best bad guys even though readers never get to see him alive. (Some men's deeds certainly live on past their deaths.) But more than the mystery or the fascinating history that can be learned throughout this remarkable series, it's the cast of characters that keep me coming back for more. Alafair and her husband, Shaw, have ten children. Most of them are grown and have (or are starting) families of their own. Alafair could retire from sleuthing and have many choices among her children for her replacement. Just give her the grandbabies to keep an eye on.
In many of the series I read– no matter how much I love them– it feels as though the characters are put in a box and set on a shelf in the closet until it's time for the next book. Not so with Casey's Alafair Tucker mysteries. The Tuckers are so busy getting on with their lives that each book feels as though I'm sitting at Alafair's kitchen table for a cup of coffee and a "catch up" chat. These characters are so alive they practically jump right off the page, and aren't those just the sort you want to read about?
Mysteries to make you think. Tidbits of history for you to learn. Characters that will have you laughing, crying, feeling proud, or getting upset. All this and much more await those who pick up one of Donis Casey's Alafair Tucker mysteries. They are something very special. Cathy Cole, Kittling Books, February 6, 2018