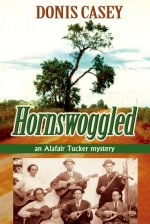 Poisoned Pen Press
Hardcover, ISBN: 1-59058-309-4, $24.95 US, $34.95 CAN, 242pp
Large Print Trade pbk, ISBN: 1-59058-310-8, $22.95 US, $29.95 CAN, 290pp
"Hornswoggled is a tremendous novel from a gifted writer. Donis Casey's voice flows like tea syrup, transporting you effortlessly to the Oklahoma frontier. If you fondly recall The Walton's clan, you'll adore Hornswoggled's richly drawn characters. A welcome invite to your great-grandmother's front porch swing." — Julia Spencer-Fleming, Edgar finalist and author of All Mortal Flesh
"Ms. Casey, you have Hornswoggled this reader with your wonderful book. I reviewed your last one, The Old Buzzard Had It Coming and I love this next story. You have outdone youself in portraying the events, the lifestyle and the genuine people that comprise this growing America. I wanted to read ahead and find out who-done-it, but couldn't bring myself to not read all the way through. You show a masterful talent with words, creating an atmosphere for the murder that is somber and intriguing, but also very positive in showing how a person with a heart should always try to look at the things surrounding them…
"As in your previous book, The Old Buzzard, you show the old western farm in the change-over from the horse and buggy days to the new-fangled automobile, in an up and coming Oklahoma country where those farms stretched for miles and many people only knew their neighbors slightly. The towns that grew up around those outposts were involved in the growing of this country and the people becoming more socially oriented towards each other, playing a part in the relationships shown. You had to have listened attentively to a grandmother or other older family member tales of that time (which you have also clearly researched extensively) to make the reader feel totally at home in the middle of it. I even started thinking and speaking in the Oklahoman dialects that I remember so well from my past relatives. To make a murder that took place in a community so remote from today's hustle and bustle, amidst that of the simple life of nearly a 100 years ago, really is a remarkable achievement, seeing as how most people only relate to present time circumstances with any fluidity. I completely and honestly recommend Hornswoggled as a book the reader will feel completely at home in reading, in part because ther is so much in it that is inside all of us and makes us the people we are today.
This is truly masterful storytelling. The roles they all play and the intertwining of the lives, I will leave you to find, so that you may enjoy the true essence of this masterful mystery…
"As I said in my previous review, Ms. Casey is able to weave a story out of the old family trunk and make it something that everyone will enjoy. She has a very fine way with words and getting the thoughts on paper very skillfully. I thoroughly enjoyed this great little mystery that does not have the main characters all caught up in the thrill or the challenge of over-active heroism. It is a very real, down to earth, wrenching to the core story about a way of life that is no more. Ms. Casey, I am a fan and will look forward to your next book. Please keep up the realistic approach to your stories, and thank you for the ride."
Claudia VanLydegeraf – MyShelf.com
Thank you, Claudia
"Set in the prairie town of Boynton, Okla., in the spring of 1913, Casey's nostalgic, folksy second novel to feature Alafair Tucker (after 2005's "The Old Buzzard Had It Coming") finds the full-time mother of 11 [sic -Alafair has 10 children living -Donis] and part time sleuth worried about one of her grown daughters, Alice. Alice is sweet on barber Walter Kelley, an attractive widower whom the determined and discerning Alafair mistrusts; Walter is just too popular with the ladies. Since Alice is set on having Walter, Alafair seks distraction by investigating the unsolved murder of Louise Kelley, Walter's late wife, whose stabbed body surfaced in a creek bordering the Tucker farm eight months earlier. Dialog rich with Midwestern speech patterns and a consistent, unobtrusive narrative voice lift this smalltown historical, which should particularly appeal to Margaret Maron fans. An appendix of down-home recipes is a bonus." – Publishers Weekly 6/19/06
"Donis Casey's Hornswoggled … provides a satisfying Alafair Tucker mystery, set in 1913 and telling of romance, a wife's mysterious murder, and Alafair's investigation of husband Walter's possible involvement.  Family politics and involvements blend with a satisfying tangle of lies and subterfuge that lend complexity and vivid action to Hornswoggled." - Midwest Book Review, Dec. 10, 2006. 
"The author evokes Oklahoma of almost a hundred years ago and peoples it with wonderfully diverse characters with intertwined relationships. Alafair Gunn Tucker, mother of 10 and amateur sleuth, is concerned that one of her daughters is falling for a recently widowed barber who may have killed his wife. Partly in an effort to protect Alice, Alafair pursues the clues left behind by the killer (or victim), and the mystery she unravels seems to tie half of the town to the murder. There are moments of farce and elements of danger. Readers can almost smell the scent of death on the bloodstained rug and taste the homemade butter and potato patties (recipes included). The book provides an entertaining way for teen to appreciate the richness of life in this time and place. The idioms and local color are delightful, and the characters are real enough for readers to fear for their safety." – Will Marston, School Library Journal, December 2006
The Old Buzzard Had It Coming introduced Alafair Tucker to the mystery world.  Hornswoggled continues to track Alafair through thick and thin – though she tends to run more to thick than thin in her daily life…  I liked the depiction of the life the people in this small town lived, as my mother was a wee girl then and told me so much of those days and of her own mother who refused to use a telephone – she was frightened of the newfangled thing.  But the shining star in this story is the complicated plot line that never strays from the tale as it winds from one character to another.  Hornswoggled  is a well-written book that keeps the reader guessing until the end. – Mary Ann Smyth for BookLoons Reviews (www.bookloons.com) Dec. 2006 
"Donis Casey's new mystery, Hornswoggled, is just as fascinating as the first book in the series … Oklahoma life in 1913 comes alive in her books.  Her attention to historic detail is wonderful, but it doesn't distract from the story.  I loved Easter dinner for 65 …  Hornswoggled is a mystery with surprising twists, reminiscent of Murder On the Orient Express by Agatha Christie.  Readers will enjoy the return to Alafair's life, and her attempt to find a murderer.  Lesa Holstine for www.bookbitch.com Sept. 2006
"…Hornswoggled is a fabulous early twentieth century Oklahoma historical amateur sleuth story that grips the audience from the start with its insight into time and place. The dialect used by the Tucker brood and their neighbors augments the strength of the plot by adding depth to the cast and the feel for the era. The whodunit investigation is fun, but the tale is more a period piece than a mystery as the investigation augments the period and locale. Fans will appreciate going down home to an Oklahoma less than a decade as a state escorted by delightful tour guide Alafair Tucker."
Harriet Klausner Reviews – http://harrietklausner.wwwi.com
"The newest offering from Donis Casey, who set this marvelously engaging series in play with last year's The Old Buzzard Had It Coming. Boynton, Oklahoma is the scene of the crime, which revolves around a ladies' man whose wife has been murdered. Alafair Tucker, series sleuth and devoted mother of eleven [sic] has a particular investment in this scenario since her daughter is in love with the handsome widower.  When Alalfair begins to investigate, massive deception comes to light in this nostalgic trip through 1913 Oklahoma, when life was simpler — or was it?"  Mysterylovers.com Sept. 2006
"Author Donis Casey has featured her unusual, crime-solver heroine Alafair Tucker in two novels, now, and with Hornswoggled…we can only be glad to see her back.
It's 1913, and Alafair still lives in a small Oklahoma town, where she is a realtively young mother of 11 [sic] children. She's a dedicated busybody and a fiercely protective mother …
…As in any nurturing family, each of Alafair's children has a distinct personality and identity. Alice has standards a bit higher than her circumstances, and she has set her sights on becoming the wife of the local barber. Problem is, the barber's current wife just showed up dead…
Alafair doesn't like him; most mothers would be suspicious of the too-smooth charmer. But for Alice's sake … Alafair sets out to find the real killer, even if it is the man her daughter loves … In a little town where eveyone knows everything — there are many secrets no one seems to know.
Alafair Tucker is a remarkable woman much too smart and energetic to be confined to a woman's place in a small rural town. The fact that she has an ample supply of children who will probably get in trouble, as well, is only good news for the readers." Ann DeFrange – The Daily Oklahoman – Oct. 1, 2006
This series is everything a 20th-century-historical mystery series should be, and if the rest of it is as awesome as the first two books, I will be so very happy. Community Live Page, 50 Book Challenge, www.community.livejournal.com, March 21, 2009.
Alafair is not happy at all when her daughter Alice becomes enamored of the newly widowed Walter Kelley. He was cleared of his wife's murder, but something doesn't sit right with Alafair. When her children are involved, Alafair Tucker leaves no stone unturned.
Another delightful murder mystery by Donis Casey. http://sherryswebofmurder.blogspot.com/p/reviews.html July 2011