Dear Readers, help me welcome my honored Tell Me Your Story guest for August, former research scientist and international business executive Warren Easley, (https://www.warreneasley.com) author of the award-winning Cal Claxton mysteries, set in Oregon. No Witness, eighth of that series, earned the 2022 Spotted Owl Award for best mystery novel by a Pacific NW author. His ninth Claxton book, Fatal Flaw, is available now.
How Did This Happen, Anyway?
What sparks the urge to write crime fiction? It's hard to say and different for every writer. For me it was the fact that my head was literally bursting with stories I wanted to tell. But this didn't happen over night. I put a Ph.D. in chemistry and a thirty-year career in R&D between me and my first written page. Well, that's not quite true. I did write a lot of poetry but that work never saw the light of day, thank God! While I was a working stiff, I read the genre intensely, especially writers who wrote character-driven novels with a strong sense of place like James Lee Burke in his Dave Robichaux Gulf Coast novels. Burke was my most profound inspiration. But I was also strongly influenced by several other writers. Walter Mosley's Easy Rawlins series inspired me to make my protagonist, Cal Claxton, an everyman, a character people can root for. Michael Connelly's Bosch novels showed me how a complex plot can evolve with pace and clarity, and Sara Paretsky's V.I. Warshawski was a character with grit and determination, qualities I wanted Cal to exhibit. Elmore Leonard showed the importance of authentic dialogue, and how to use that dialogue to keep the story moving.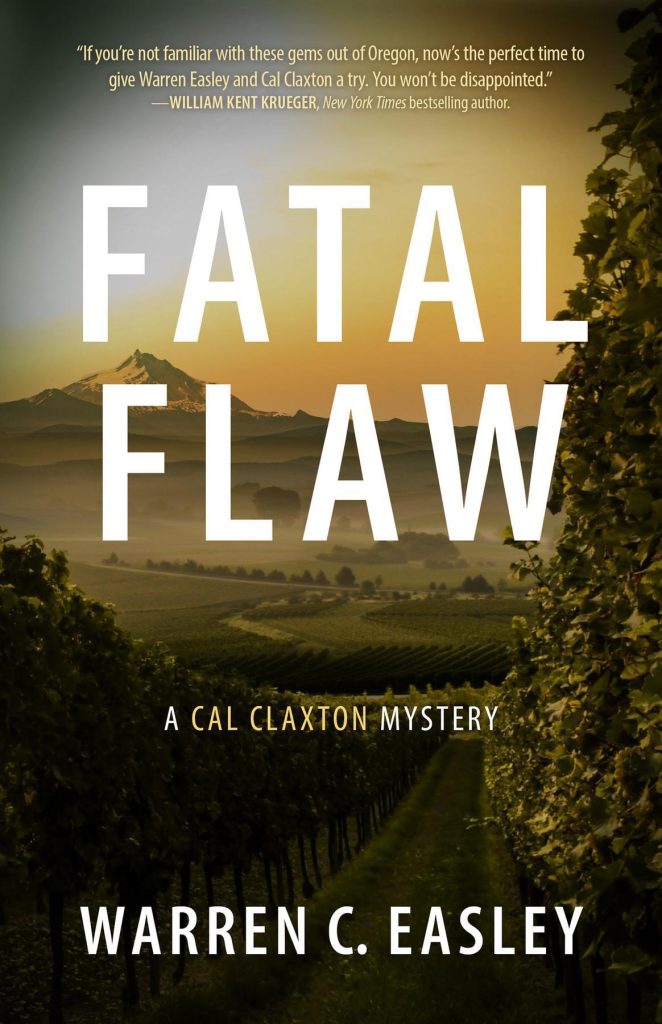 I may have had a lot of stories rattling around in my head, but to be honest, the impetus for the first Cal Claxton book I wrote was boredom. After I retired for a second time, I was returning from a trip back east when I realized I'd left the book I was reading back at the motel on a non-stop flight from Atlanta to Portland. The book was Burke's Heaven's Prisoners, one of his very best. Now that I had the time, I'd been thinking about trying my hand at writing a mystery series set in Oregon, which would pay homage to this place that I love so much. Well, I had nothing else to do on that flight, so I started writing. When we landed, I had twenty-three hand-written pages. I was hopelessly hooked! Five months later, I finished the book. It wasn't very good, so I wrote another one and during that time I enrolled in a five-week course on fiction writing at the Attic Workshop in Portland and read every how-to book I could get my hands on. My favorites were On Writing by Steven King, Bird By Bird by Anne Lamott, and Elmore Leonard's Ten Rules of Writing.
I wrote two more books, each better than the last and began shopping them around without much success, although I received some "friendly rejections" from the small boutique publisher, Poisoned Pen Press (now the mystery imprint of Sourcebooks) in the spirit of keep writing, you're almost there. When I finished my fourth book, Matters of Doubt, I knew it was good, or it was as good a book as I could write. I sent the manuscript to Poisoned Pen with high expectations. Crickets! I was so disappointed by the lack of any response at all, that I almost gave up. But my wife advised me to send a note to the submissions editor. I did and got an immediate response that they had lost the manuscript and wanted me to resubmit. I sent another manuscript immediately and four weeks later I signed a three-book contract with Poisoned Pen.
Whew!
That was an important lesson learned—don't doubt yourself and don't ever give up. And I've learned many other writing lessons in the course of this series, most of them painful! Chekov famously warned that a gun in the first act better be used by the third. I would add that If you describe that gun, make sure you get it right. There are plenty of mystery readers out there who know their firearms and will be more than happy to correct you. Probably the lesson that stands out the most for me is to trust the process—to know that if I keep writing, the story will evolve. I don't outline my books. Instead, I start with an initial concept and small cluster of characters, and then I allow the story to evolve organically. If I'm lucky, I can see a couple of chapters ahead, so the process can be stress-inducing. But it seems to work for me.
From a serendipitous beginning to near death aborning, the writing journey for me has been fun and immensely satisfying. I've tried to write books that are first and foremost intricate mysteries populated with authentic characters and set in beautiful Oregon. At the same time, I want the books to be more than escapist reading. I don't shy away from the issues that tear at the fabric of our society from gun proliferation to sex trafficking to homeless youth and other marginalized segments of our population. Once a hard-charging prosecutor down in L.A., my protagonist, Cal Claxton, moves to Oregon in the aftermath of his wife's suicide and opens a one-man law practice in the wine country. Intent on reinventing himself, Cal takes on the cases other lawyers won't touch, cases that often pit the little guy against the system.
I'm halfway through book 10 as I write this. It's been quite a ride!