When I said in my last entry that September was going to be a busy month, I wasn't kidding. I spent the month traveling all around this great state of Arizona teaching creative writing workshops for the ONEBOOKAZ program, which is sponsored annually by the Arizona State Library system. I wrote all about my road trip at the Poisoned Pen Press author's blogsite, if you'd like to read about it and see a bunch of pictures. I presented classes at several libraries in towns scattered across Arizona and got to see places I haven't seen since Don and I first moved here thirty years ago. It was quite a useful reminder of how diverse this great big state is. And it certainly isn't all deserts, for those of you who may be laboring under that particular misapprehension.
My last class was presented on September 26 in Florence, AZ, which is a beautiful little town located about an hour southeast of the Phoenix area. This is the town where the Sally Field/James Garner movie Murphy's Romance was filmed, which gives you an idea.
Besides continual travel and teaching, I wrote several guest entries on various blogs and e-magazines last month, as well. There was a lovely two-day interview with me at  at Novel PASTimes on Sept. 17 and 18. You can see Day One by clicking here, and Day Two here. I talked about  what I write and why and how I came to write what I write and where I write it. And what I look like writing it. Basically everything you wanted to know about my writing.
And if you like mysteries and deserts, I contributed a recipe, as well as a little writing and a little relationship advice, to a wonderful new cookbook edited by Lois Winston called Bake, Love Write: 105 Authors Share Dessert Recipes and Advice on Love and Writing. The cookbook is available on Kobo, iTunes, Nook, and Amazon, in paper and as an ebook. What could be better?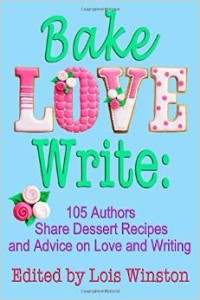 I have a few private events in October, and two very public ones (check out the Events page, above), including an evening with myself and wonderful mystery author Betty Webb at one of the best independent bookstores anywhere, Changing Hands in Tempe, on Oct. 28.
Mostly I have to get back to writing this month or we'll NEVER see what happens in Boynton Oklahoma when World War One starts.