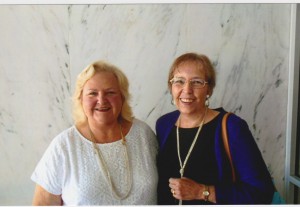 My Oklahoma book tour was tremendously fun, very successful, and too short. I visited libraries in nine small eastern Oklahoma towns in five days. I have never been fed so much in my life. I will post pictures from the trip on this site as I get them uploaded, but here are a couple of particular interest.
My husband did not go with me to Oklahoma, so I asked a childhood friend if she'd like to accompany me, and she was eager to come. I have known my friend Suzanne (above, left, with me) , who lives in Tulsa, since we were in the second grade. Our lives have taken wildly divergent paths, but we have managed to stay in touch lo these many years. It was a great comfort to have a traveling companion. Especially one who knew the lay of the land. If she had not been along, I would have gone to Hobart, OK, instead of Hulbert, for one of my events.
We stayed in Muskogee, OK, as our base, and traveled to the other towns from there. On the last day of the tour, we drove to the Morgan family cemetery, where my grandmother, her siblings, and my great-grandparents are buried. If you are familiar with my books, Dear Reader, you may recognize the name on this stone.