Ah, December. The reviews for my February Alafair Tucker Mystery release, Forty Dead Men, are beginning to come in, and they have been delightfully good, thus far. In fact, Publishers' Weekly, THE review magazine, gave the book a starred review, which means I am very happy.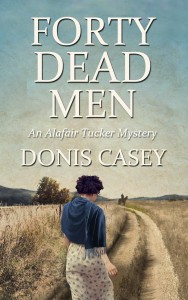 In their Nov. 18 issue, PW says: "In Casey's excellent 10th Alafair Tucker mystery (after 2017's The Return of the Raven Mocker), 22-year-old George W. "Gee Dub" Tucker, a WWI vet scarred by his war experiences, returns to the family farm in Boynton, Okla., run by his parents, Alafair and Shaw, with the aid of their large brood of children. One day, Gee Dub meets Holly Johnson, a wary traveler who's making her way from Maine to the nearby town of Okmulgee, where she thinks her husband Dan's family lives. Dan, who served in France, disappeared after the war ended, and she wants to discover what happened to him. Gee Dub tries to help Holly find Dan, but becomes the prime suspect when Dan turns up shot to death, and Alafair determines to clear him—or, if he's guilty, destroy the evidence. Casey expertly nails the extended Tucker family—some 20 people—and combines these convincing characters, a superb sense of time and place, and a solid plot in this marvelously atmospheric historical. "
Booklist, another prestigious review periodical, on Dec. 1 said of the book: "Oklahoma farm wife Alafair Tucker is delighted that her son Gee Dub (short for George Washington) is home from WWI, despite his distracted demeanor. The only spark of life Alafair sees in Gee Dub occurs after a young woman traveling from Maine asks for directions to her husband's family a town away, and Alafair insists the girl rest at the Tucker's farm before continuing her journey. When Holly does find her husband's family, she learns he died of influenza before he ever made it home—except the picture Holly carries of her groom isn't of the dead man who had her husband's discharge papers in his pocket. The real husband is soon found shot to death, and a disoriented Gee Dub is the only suspect. A compassionate look at PTSD, this tenth series entry again showcases the savvy mother hen Alafair, who has a lot in common with Mette Ivie Harrison's Linda Wallheim, another loving western mother whose curiosity and common sense always come in handy." — Karen Keefe
Forty Dead Men is available for pre-order right now at  Poisoned Pen Bookstore, or at the Poisoned Pen Press website. I hope you'll add it too your TBR pile.
Dec 7 was the last session of the writing workshop I have been conducting for the Arizona State University Emeritus College. I told a friend of mine that the old saw may be that "those who can, do, and those who can't, teach," but when it comes to keeping up with your writing, I begin to feel that "those who teach, can't." I have fallen way behind on my work in progress, and since I must have an excuse, I blame it partially on that class. It takes me a long time to think about and prepare to teach a class. More than it ought to, I expect. Especially since I am continually teaching somebody, somewhere. something about writing and have been for a decade. But the ten week workshop is done and I'm running out of good excuses. So back to work, and  holidays to look forward to and lots of treats to nosh on.
Aside from classes and health issues, I only had one author event last month, and that was the Poisoned Pen Bookstore Thanksgiving Holiday party in Scottsdale, AZ, on November 19. My friend Carolyn Hart flew in from Oklahoma for the event to tout her latest Bailey Ruth Raeburn novel, Ghost on the Case.  I am between new releases, but since we are both native to the same part of the country, Carolyn asked the event organizers if I could participate anyway. I was more than happy to be able to interview her and sign books along with all  the  fabulous participants, Carolyn, Tim Hallinan, Rhys Bowen, Jenn McKinlay, Kate Carlisle, and Daryl Wood Gerber.
I gave Carolyn an advance reading copy of Forty Dead Men as a thank you for inviting me to appear with her, and a week later she so kindly sent the following note to my editor:
"If it isn't too late I would love to give a cover quote to Donis's marvelous book:"
    A poignant novel of heartache, pain, love, and grace. Brilliant and memorable. Carolyn Hart
   "It is a triumph ."
I really couldn't be more touched and thrilled.