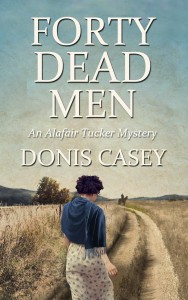 Forty Dead Men is launched into the world, my friends. The tenth Alafair Tucker Mystery was born on February 6 and the christening party was held on February 24 at the great Poisoned Pen Bookstore in Scottsdale, Arizona. I was joined by two fellow Poisoned Pen Press authors–Dennis Palumbo, touting his new Daniel Rinaldi mystery, Head Wounds (which is a real nail-biter, by the way), and by Priscilla Royal, launching her fourteenth Medieval Mystery, Wild Justice (where she revealed some secrets that have remained unanswered since the series began). Forty Dead Men, is the story of Alafair Tucker's eldest son Gee Dub, recently returned from the trenches of World War I. Everyone in the family thinks he is the same good natured youth who left for France a year early, but his mother fears this is not the case. And she is right, much to her dismay. That doesn't keep her from doing anything she can, legal or not, to help Gee Dub when he is accused of murder.
I am particularly proud of Forty Dead Men, which deals with the psychological effects of warfare on a veteran of the First World War. They called it shell shock back then. Now we call it PTSD. Forty Dead Men is available in paper or as an ebook, or on Audible, wherever books are sold. I hope you'll have a look. The first chapters or two of all my books can be read right here on this web site by clicking on "About this Book" under the thumbnail covers at the left. It is never necessary to read any of the early books to enjoy any of the Alafair Tucker novels on its own.
And for your viewing pleasure, here are some photos of my launch with Dennis and Priscilla.