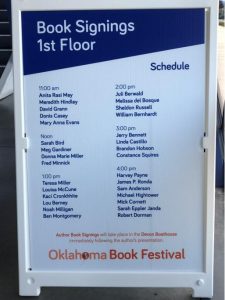 Happy November, my friends. November is the month for turning leaves, Thanksgiving, and NaNoWriMo, or National Novel Writing Month. Have you always wanted to write a novel? Here's your chance. Check out the particulars at https://nanowrimo.org.
I spent much of October finishing my latest novel, The Adventures of Bianca Dangereaux, Episode One, Lust for Vengeance. I'll be sending it in for my editor's comments (and approval, hopefully) at the end of November. This book is a spin-off from the Alafair Tucker novels, and I'm anxious to tell you all about it. But I think I'd better wait until I'm sure it's a go. At this point all I can say is that it takes place in California in the 1920s, and it's more noir-ish than the Alafair books.
I did take a trip back to my home state of Oklahoma  to speak at Woodward Public Library, which was spectacular for me, and to appear at the first annual Oklahoma Book Festival at the Boatyard in Oklahoma City. My sisters Martha, my brother Chris, and my sister-in-law Donna came to OKC to attend the festival, and afterwards they schlepped me back to Tulsa with them. I spent a couple of nights with Martha in Bixby Oklahoma, and had a mini-family reunion when Sister # 2, Carol, drove down from Joplin for a get-together.
Martha and I drove down to Boynton, where the Alafair books are set, to see how it looks these days. Not so great, I'm afraid. Almost all of the main street is gone, and the house our grandmother lived in (Alice's house) is just an empty lot now. Still, we had a wonderful time. I'm posting a few pictures for your enjoyment, Dear Reader, so you can share some of that happiness with me.
Since I'm starting a new series, I've decided I'm going to start an annual newsletter just to let readers know what's up with both Alafair and Bianca, so if you'd like to be included, please go to the contact page on this site and send me your email address. I promise not to bother you with any but spectacular news.