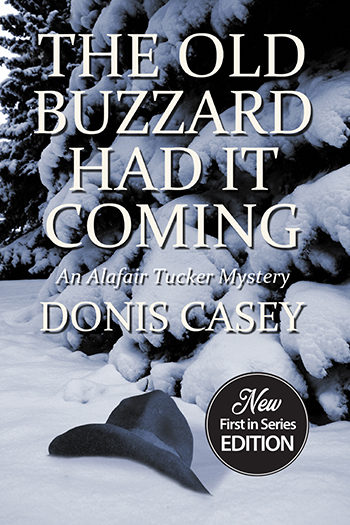 Happy summer, my reader friends. This month's drawing is for a free copy of the book that started it all, The Old Buzzard Had It Coming, An Alafair Tucker Mystery.
Buzzard introduces us to Alafair Tucker, her husband Shaw, and their mighty brood of children, and starts Alafair off on her career as a reluctant sleuth.
Alafair is the core of family life on a farm in Oklahoma where the back-breaking work and daily logistics of caring for her husband Shaw, their nine children, and being neighborly requires hard muscle and a clear head. She's also a woman of strong opinions, and it is her opinion that her neighbor, Harley Day, is a drunkard and a reprobate. So, when Harley's body is discovered frozen in a snowdrift one January day in 1912, she isn't surprised that his long-suffering family isn't, if not actually celebrating, particularly broken up.
When Alafair helps Harley's wife prepare the body for burial, she discovers that Harley's demise was anything but natural — there is a bullet lodged behind his ear. Alafair is concerned when she hears that Harley's son, John Lee, is the prime suspect in his father's murder, for Alafair's seventeen-year-old daughter Phoebe is in love with the boy. At first, Alafair's only fear is that Phoebe is in for a broken heart, but as she begins to unravel the events that led to Harley's death, she discovers that Phoebe might be more than just John Lee's sweetheart: she may be his accomplice in murder. But a man like Harley had turned many hands against him. Whoever said that there are some things even a mother can't fix never met Alafair Tucker.
Tony Hillerman called Buzzard "…a tale full of wit, humor, sorrow and, more important, the truth…" The Old Buzzard Had It Coming won the Arizona Book Award, was a finalist for the Oklahoma Book Award, and was named an Oklahoma Centennial Book in 2007. You can read the first chapter here.
To enter the drawing, click on "Contact", above, and enter your email address. No one will see it but me. I will draw the winner's name from my Magic Cowboy Hat on June 18. Good luck!