October 13 update: I have drawn the name of the winner of the October giveaway. Congratulations, Crystal! I had so many entries this month, and I'm grateful to everyone who entered! Please feel free to enter every month!
In the meantime, check out my latest post on Type M for Murder, where I tell the tale of my favorite research discovery EVER. I've found out a lot of fascinating and unbelievable facts in the course of researching for my historical novels, but believe me, this one takes the cake!
Ah, October. The best month of the year in most of the United States, including here in Arizona, when the temperatures drop below the triple digits. It's usually pretty good in Oklahoma, too, where I grew up. The tornados tend to abate!
It's time for another giveaway, and I thought I'd do something different this month. Instead of giving away one of my own titles every month, a few times a years I'm going to give away a title I like from another author whose work I enjoy. It's a great way for you to find a new author you might love! This month I'm giving away a copy of The Girl In the Yellow Dress, A Henry Johnstone 1930s Mystery, by British author Jane A. Adams. I'm a sucker for British detective stories, especially ones set in the early 20th century. Here's the cover blurb: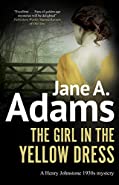 The Girl In the Yellow Dress. 1930, Leicestershire. Everyone in the quiet market town of East Harborough is convinces that local miscreant Brady Brewer is responsible for the brutal murder of Sarah Downham. Despite Brewer's protestations of innocence, and his sister's pleas for help from DCI Henry Johnstone and DS Mickey Hitchens, Brewer is convicted and hanged. Two weeks after the hanging, a farmworker finds the body of another young woman lying beside the road less than a mile from where Sarah was found – another are other disturbing similarities between the two murders. Is a copycat killer on the loose or was Brewer innocent after all?
If you'd like a chance to win a hardbound copy of Jane Adams' latest Henry Johnstone 1930s mystery, click on "Contact", above, and leave your email address (no one will see it but me). I'll put all the names in my Magic Cowboy Hat and draw the winner on October 12.