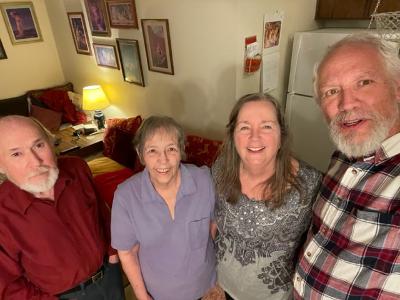 Guess what? I actually had visitors IN MY HOME for several days. My next-younger-than-me sister Carol and her husband Chris flew in from Missouri just to see us and it was wonderful. Besides being able to see them in person, blowing my diet was a treat! I didn't get any writing done while they were here, but it was worth it.
No one has set foot in my house (Aside from a couple of repairmen) since before the pandemic. Believe me, you do not realize how you let your house go until you know you're going to have people staying with you for a while. It took us days to clean and find places to put things that have been hanging out on counters and tabletops for three years. By the time my visitors arrived, I felt like I had run a marathon. But my house was clean, dang it. And now that they've flown back to snowy Missouri, I find myself trying to keep the place neat. It's rather nice!
About the photo – Chris took the selfie. His arms really are that long. My sister is several inches taller than I (I'm the only short sibling in my family) and her husband Chris, at 6'7″, is a foot taller than she is. Their children are giants.
Now – back to business, and pleasant business it is, too. My Tell Me Your Story guest for February, 2023, is Tammy Kaehler. Tammy is the author of five Kate Reilly Racing Mysteries, a wildly original series that takes you inside the cockpit of a race car to experience the sights, sounds, sensations, and emotions of racing at the edge. Join Tammy here on February 20 at as she reflects on the extraordinary difficulties of maintaining a writing career in today's publishing climate.