October has been a whirlwind, some of it fun and some of it not so much. I can't believe it's already more than half over. I've already posted some pictures from my Changing Hands Bookstore event with Mara Purl, which was entirely wonderful. Then just this past Monday, I was privileged to speak to a fantastic group of women from the Brandeis University Readers Group at the Barnes & Noble on 90th Street & Shea Blvd up in Scottsdale, AZ. There were over 50 women in attendance, a wonderful audience, and I had a tremendous time. I didn't take any pictures while I was up there, but Don did take a pic of me in the outfit I wore. To wit: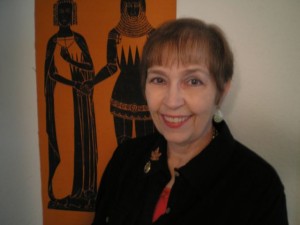 You know, while I'm at it, I have another image from the Changing Hands gig that I want to show you, Dear Reader. This will give you an idea how great the bookstore is: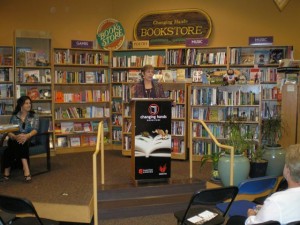 Now. There is one event left for the month of October. On Oct 29, I will be presenting my How to Commit Murder Mystery Writing Seminar from 10:00 a.m. to noon at the 2nd Annual Avondale Writers Conference. The conference will be held at the Avondale City Hall, 11465 Civic Center Drive, Avondale, AZ.
This is going to be a great conference. Besides my seminar on mystery writing, there will be sessions on plotting, characterization, how to get published, how to write a query letter, editing, e-publishing, creating web sites, even a session on the 3 deadly sins that will keep you from being published. One can also make an appointment to speak to an actual literary agent.
Below is information from the conference site:
Last year's Conference was a 100% SELL-OUT! This year's Conference is sure to be as well. Like last year, only 250 attendee seats are available, and they are filling fast!
Keynote Speaker mystery writer Laura DiSilverio will deliver our Keynote, and this is a speech you don't want to miss!
Meet an agent! Four agents have committed so what an opportunity to pitch your work! (Limited availability; special registration required.)
Practical, how-to, and hands-on sessions!
Agents Panel — hear what they look for, and what they want!
Enroll your kids! This year there is a concurrent Young Writers Conference (ages 7-17) with amazing content that will fire their imagination while teaching essential skills.
Want to find out more? Get all the skinny and enroll at the conference web site
http://avondalewritersconference.com
See you there!