My husband Don was released from the hospital on Feb 1, minus about a foot of small intestine and plus a shiny new ileostomy bag (temporary, thank goodness). After we got home I spent a lot of time unpacking and trying to get things in order.  Funny, the house was very neat until we got home, but within fifteen minutes it looked like a pharmaceutical explosion occurred in my living room. Don's doing okay.  He's still a bit unsteady on his pins.  His arms are so covered with bruises that he looks like he's stuck them in a grinder, and he has a couple of scraped places that are kind of weepy (just water) and we have to keep changing dressings or his shirt gets all wet. His pain is infinitely improved, and his appetite is not too bad. Below is his first post-surgery meal of veggie broth.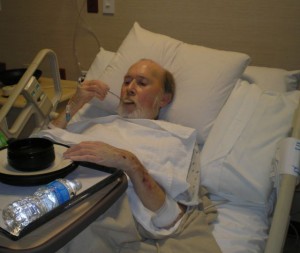 He had ostomy training while we were still at the hospital – changed his own bag for the first time.  He did well, but it wasn't all that enjoyable an experience as you might guess, Dear Reader. He'll be seeing the surgeon in a week or ten days to have an assessment and to have the staples from the operative incision taken out.
Late Thursday night we got the lab report on the section of tissue they removed and it seems there was a touch of cancer, some Stage 2 cells.  The surgeon said they got it all – the intestine was clear above and below and there was no trace in 40 surrounding lymph nodes.  He said that the only slight concern was that there were some "micro-perforations" in the sore section through which a cancer cell might have escaped, so we did speak to an oncologist this morning before we left.  The oncologist told us that Don is basically cured. His chance of recurrence is low without any chemo, but if he wants to consider doing a course of preventative chemo, that is possible. The doctor gave us all the info on the regimen to check out before we make a decision, but nothing will happen until Don's quite a bit more recovered.  This extra added thing to deal with shouldn't interfere with having the ileostomy reversed, we were assured.  I learned long ago not to assume I can guess what Don is going to do, but history suggests that he won't go for the chemo.  We shall see.
I didn't know they'd find a malignancy, but it certainly was in the back of my mind, and neither one of us was overly surprised.  I'm very thankful that Don decided to go ahead and get the operation rather than do the three month course of meds for the Crohn's, and I was surprised, too.  He has historically been quite anti-operation.  It just goes to show how bad he felt.
We will have home health nursing for a little while. The nurse came by for her initial assessment yesterday.  She'll be back on Monday to assist in his second bag-changing.  He has a lot of post-op edema, especially in his feet. He has no stamina, and has a hard time getting up and down. He's trying to eat as well as he can.  I expect the first week or so at home will be rather anxiety-making, at least until he gets to feeling better and we can better judge what's normal and what to be concerned about.
While he was in the hospital, I did get quite a bit of rewriting done on The Wrong Hill to Die On, which is scheduled to be out in October.  I can tell things are going to have to calm down a bit here at home before I can get back to it, but I'm looking forward to the day.  Fiddling with that MS has been quite a comfort. 
Will Donis survive to tell the tale?  Stay tuned.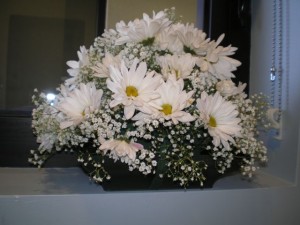 My friend Lois created this beautiful arrangement and brought it to the hospital. It still looks quite as lovely in my living room.