This past Thursday I had a wonderful time speaking to the Moon Valley Women's Club up in Moon Valley (where else?). Moon Valley is part of the Phoenix metro area, but it is located on the northern edge whereas I live on the far southern edge, a good half-hour's drive if the freeway is moving well.  It's been so long since I had a speaking engagement – I think that October with Mara Purl at Changing Hands was the last one – that I had to spend a lot of time rehearsing my spontaneous charm. The event was wonderful.  Nearly 50 women were there, a most kind and receptive audience.  It was nice to get out by myself and be an author again.  This was the first time Don had spent any great amount of time alone since before his operation! He really does very well for a while on his own after all this time, and probably was overjoyed to have some time to himself without me hovering over him.
Coming up on May 5, I'm going to be participating in a multi-author event called Cozy-Con at Burton Barr Library – the main Phoenix Library – with a whole bunch of 'cozy' mystery authors from all over the west. Don may be in the hospital by then, but we've already determined that I'm going to be at the conference no matter what.  It's not like Don and I haven't been through this before.
This is going to be quite a fun event, and I hope you'll come if you're in the vicinity, Dear Reader. Here's the official skinny: The Poisoned Pen, in partnership with Phoenix Public Library is sponsoring CozyCon at Burton Barr Central Library on May 5th. Authors attending include Avery Aames, Kate Carlisle, Jane Cleland, Donis Casey, Hannah Dennison, Earlene Fowler, Rebecca Hale, Carolyn Hart, Beth Kendrick, Jenn McKinlay, Paige Shelton and Betty Webb. A free open panel with all authors is scheduled from 10-11am, followed by a paid conference from 11:45 to 4:30pm. Cost for the conference is $25 which includes lunch. Seats are limited so call and register at 480-947-2974.
In my personal little world, you will be thrilled to know that I bought a rug for my living room. I know I am thrilled. We gave out living room furniture to a women's shelter over a year ago with the intention of immediately buying a whole new suite. Long story short, we have had a bare living room ever since. I've had my eye on this particular rug for a while, but thought I'd better wait until I found the furniture before buying the accessories. I finally decided what the heck. So I'll buy a furniture to match the rug rather than the other way around. Observe, and you'll understand.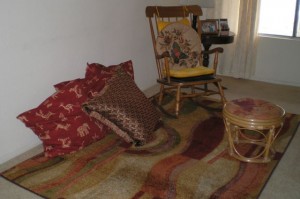 In case you are wondering, we bought some art for the walls just this morning. I do think I'd like to paint those white walls a nice warm color, too.
In health news, Don's next appointment with the surgeon is this coming Monday.  We're hoping he'll set a date to reconnect Don's plumbing, because Don is getting pretty dang tired of dealing with the ileostomy.  I think Don wouldn't have such trouble with his if it weren't for that open wound from the infection being so close to the ostomy.  Between the two of us we change the dressing on that little open wound every day, which messes with the attachment and often causes it to leak. It's a pain.  He has an appointment with a wound doctor out at Banner Baywood hospital in Mesa on Wednesday, which he won't keep if the surgeon says he doesn't need to.  But Don thinks it's taking an inordinately long time for the wound to close, and wanted to see if there is anything else he can do to help it heal.  (And if that is way more than you ever wanted to know, I apologize.) He is slowly gaining weight again.  He was up to 127 1/2 last night but back down to 126 tonight.  He has to eat continually, and does!  Sadly, so do I.