And what a trip it was.  My sixth Alafair Tucker novel, The Wrong Hill to Die On, happened to come out at about the same time as Vicki Delany's latest standalone, More Than Sorrow, and though Vicki lives in Canada, and I live in Arizona, we have the same publisher and have met on numerous occasions.  Having found one another agreeable, we thought it would be a fine idea to promote our new books together here in the U.S.  And so the idea for the book tour was born.
We started out with four events here in the Phoenix area, first on October 25  at Velma Teague Library in Glendale, home of the inimitable Lesa Holstine (who authors of one of the best review sites going, Lesa's Book Critiques).  Great crowd, great reception, great article about the event (read about it here) and as always, chocolate.
Next we did the Coffee and Crime event at the Desert Foothills Library in Cave Creek, AZ.  What a wonderful bunch! Check out this crowd:
Then Saturday was the Poisoned Pen Bookstore in Scottsdale, home of both Vicki's and my editor, Barbara Peters.  Once again, another fantastic audience, which I was most gratified to see, since this event was the official launch of my book. Cathy Cole, who authors Kittling Books, another well-known mystery readers' site, was there, and wrote a great recap of the event that you can check out here.
Our last but far from least event in Arizona was Authors and Artists, a charity do for P.E.O., a philanthropic educational organization which raises money for women's education through projects such as this.  Original works of art were raffled off, then four authors spoke; Vicki and me, Betty Webb, and Frederick Ramsay, all of whom are published by Poisoned Pen Press, which then made a donation to the organization.  It was a smashing success, with over 100 attendees, and many books sold.
Then it was off to California for me and Vicki.  We rented a car in Tempe and took off for San Diego, spending our first night in Yuma, where we visited the library and discovered our books on the shelves, which was certainly gratifying for both of us. (especially Vicki.  Imagine being a Canadian and finding your books in the Yuma, AZ, public library). Then we drove to San Diego, where we spent the night at a boutique hotel on Coronado Island ( No, we're not fabulously wealthy. It was off-season.) We introduced ourselves at the library again, then went out to see the sights.  Since it just happened to be Halloween, we caught the islanders' annual "Halloween Parade", in which every kid and adult in Coronado – and I suspect in San Diego – dresses up in her costume and walks up and down the entire downtown area and collects treats from all the merchants.  It was un-freakin' believable and a delight.
The next morning we checked out the Del Coronado Hotel, where as you all know, the movie "Some Like It Hot" was filmed, and near where Vicki's mother was stationed in WWII.
But duty called, and we had to leave paradise and head up to LA.  Our first bookstore event was at Anne's Book Carnival in Orange, owned by the warm and lovely Anne Saller, who treated us like queens.
November 2 found us at Mysterious Galaxy Bookstore in Redondo Beach.  I had never seen their new digs in LA, and I must say I was impressed. We looked sharp, too.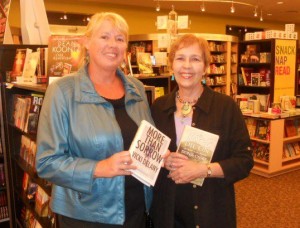 On to Mystery Ink in Huntington Beach on November 3, where we were hosted by the lovely Debbie Mitsch and got to meet up with another of our Poisoned Pen Press compatriots, Tammy Kaehler, author of Dead Man's Switch.
November 4 was Book'em, in Pasadena, hosted by mystery reader extraordinaire Jean Utley.  My beloved niece Shannon came to see us do our schtick at that event, so that was an especially good event for me.
We left the Los Angeles area on the morning of Nov.5 on our way to San Francisco, and drove up the Pacific Coast Highway,  spending the night in a guest house on a fabulous horse ranch in wine country.  We made a bunch of stops on the way because we couldn't help ourselves.  There is just too dang much to see on the Central Coast.  We didn't even get out of town before we stopped at the Getty Museum and spent hours amongst the Greek and Roman art and made plans to put similar atria in the homes we intend to have built after our blockbuster books come out.
Then we stopped for lunch in Malibu.
As you can see, by this time we were having way too much fun.  It was 2:00 p.m. and we had hardly made it out of the LA area.  So we zipped up Highway 1 – as fast as one can zip on Highway 1  – with a brief pause to refresh ourselves with Danish pastries, and made it to our destination in Paso Robles after a hair-raising drive on twisty mountain roads in the dark (Daylight Savings Time ended on us, much to our surprise).  Thank God for GPS, which got us where we were going. After a wonderful night in the horse-ranch 2-bedroom guest house, we finally made it up to San Francisco in time to catch the election results from our hotel room.  I had voted early, of course, and Vicki, being Canadian, had no dog in this particular fight, but we both got plenty interested in the drama, anyway.
Our ultimate event was Nov. 7 in Berkeley, a literary salon at the home of Janet Rudolph.  Janet is a woman of great renown in the mystery community. She authors Mystery Readers Journal, the Mystery Fanfare blog, is one of the movers and shakers of the Left Coast Crime annual convention for mystery fans, and is involved in other blogs, award programs, publications, committees, too many to mention. Our last full day in San Francisco was the only cold and cloudy day we had on the entire trip.  The salon was not until 7:00, so Vicki and I walked up and down the Embarcadero, enjoying the freezing wind in our faces, until time came to head up to Berkeley and wind up a steep, narrow path in the dark and the fog to reach Janet's home with the eye-popping view at the top of Grizzly Pass.  A more a warm, engaged, and kind audience we could not  have wished for, and a perfect ending to our book tour. To commemorate the event, Janet and her husband Frank even gave us each a bottle of wine with our book covers on the label.
Vicki and I flew out on Nov. 8, each going our separate ways.  It was a wonderful way for me to finally get back in the game after being out of commission, promotion-wise, for so many years.  But I had a great time, many thanks to Vicki, and Don survived without me here futzing over him constantly!  In fact, my guess is he quite enjoyed the silence.
And last, in case you missed me in the Phoenix area, on Nov. 14 I'll be at Tempe Public Library at 3:30.  Come on by!