Happy October and Happy Autumn, everyone. Believe me, here in the Phoenix area, we are always way glad to see fall come in.  In fact the high temperature today is forecast to be a mere 96 degrees. We are breaking out the long sleeves.
September was a busy month, and my August dance card was filled as well. At the end of August I did programs for both the Prescott Valley Public Library and the Prescott Public Library. It was a good day up in the mountains.  I made cake. Here's a photo of me and Prescott Valley library pro Mary Barnett, who was my hostess. I note that the younger generation seems to be getting taller.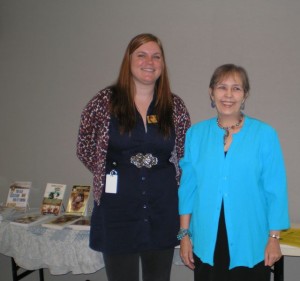 Prescott is a beautiful little city, much older than many Arizona towns, and the original Territorial Captital.  I took this photo at Sharlott Hall Museum, which has several restored buildings from 19th and early 20th Century Prescott.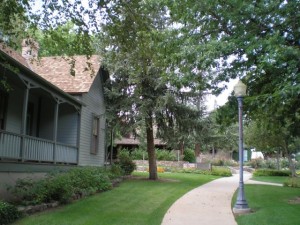 Makes me want to live there.
But the big news is that I finished Hell With the Lid Blown Off, the seventh installment in the Alafair Tucker Mystery series.  I just sent it off today.  Now, my editor still has to approve it, and I expect there will be some tweaks in the offing.  Neither has she approved the title, so it's possible that might change.  She has yet to change one of my titles, but there is always a first time. I'm going immediately into a short story that I've had hanging for a couple of months, then after finishing the book edits I'll be taking up the half-finished novel in the new series, a mystery with a contemporary setting.  This morning someone on Facebook posted a quote by George Orwell that pretty well sums up my feelings after I've finally finished a novel: Writing a book is a horrible, exhausting struggle, like a long bout of some painful illness.  One would never undertake such a thing if one were not driven on by some demon whom one can neither resist nor understand.
I'll feel differently when I first see the book in print.
I have a couple more book talks and signings coming up this month.  The first is at the Globe Public Library in Globe, Arizona, on October 12 at 2:00.  Check it out on the "Events" page and come on by.
The other is a very special charity event on Sunday, October 27, at University Presbyterian Church in Tempe, AZ, featuring the great Rhys Bowen and the just as great Jenn McKinlay.  I'll post all the details here in a couple of weeks, but until then, have a look at the Facebook page here