On October 27, from 3:00 until 5:00, Jenn McKenlay and Rhys Bowen will be signing and entertaining the audience at the annual Authors and Artists event at University Presbyterian Church in Tempe. This FREE charity event, sponsored by an international women's group called P.E.O., includes not only a sale of Jenn and Rhys' books (and mine, too, since I will be your humble MC for the event) but a raffle of some of the most amazing works of art, all to raise money for grants and low-interest loans for women's continuing education. It should be an amazing event. Check out the details, including photos of the art to be raffled, on the A&A Facebook page.  Here's the skinny:
Sunday, October 27, 2013, 3 p.m. to 5 p.m. 
139 East Alameda Drive, Tempe, AZ 85282 (SW corner of Alameda & College)
University Presbyterian Church
Authors & Artists will feature talks by Rhys Bowen and Jenn McKinlay whose books will be available for purchase.
Art (including paintings, including this beautiful fine are piece by Patrick Cheung, carvings, jewelry, etc.) will be raffled off. Refreshments will be served. Open to the public.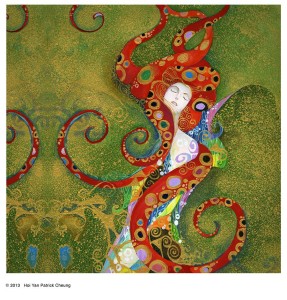 Raffle proceeds to benefit P.E.O. educational programs. P.E.O. is an international philanthropic organization that supports educational goals for women through merit- and need-based grants, scholarships and loans.
1 for $5, 4 for $20, 10 for $40, 30 for $100 At event 
1 for $5, 5 for $20, 13 for $40, 40 for $100 If ordered by Oct. 23 
To pre-order raffle tickets, send name, phone & number of tickets to AuthorsAndArtistsEvent@gmail.com then pay/pick-up tickets at event.
Checks and cash accepted. You may also order/pay online using the link on our event Facebook page: www.facebook.com/AuthorsAndArtists