My vow to update my blog post at the first of each month is being sorely tested. On October 1 this year, I was winging my way to Huntington Beach, California, in order to participate in the third annual Ladies of Intrigue conference, hosted at the Huntington Beach hotel by Mystery Ink bookstore. It was a day-long conference featuring more than 15 women mystery writers. including Carolyn Hart and Robin Burcell. This was, according to her, Carolyn's career event finale, and since she has no plans to travel out to this part of the country again, she particularly asked me and former Type M-er Hannah Dennison if we would participate in the conference this year. Of course we said yes. Carolyn has been a mentor and a friend from the beginning of both of our mystery writing careers, and we would both do anything she asked. So off we flew for one day in California, where we mingled and served on panels along with eleven other fun and fabulous authors. Then Carolyn, Hannah and I schlepped back to Phoenix for an appearance at the Poisoned Pen Bookstore on October 4.
Oh, and the first night I was in California, I had dinner with the lovely and very impressive and daunting Mara Purl, whom I met a few years ago when we did an event together here in Tempe. To say this woman is accomplished would be damning with faint praise. She's an actress, a teacher, and a writer, and if you are in the mood to be impressed (and feel like a slacker) check out her web site, here. The photo below is me and Mara at Changing Hands Bookstore in Tempe a few years ago.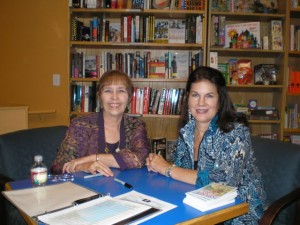 After Carolyn and Hannah flew away home, I spent the next day preparing for the  workshop I am conducting for several emeritus professors at Arizona State University. I'll do one two-hour class a week for ten weeks, and yesterday was week four. When they asked me if I'd like to facilitate the workshop, they said, "this shouldn't be too much work." When I repeated this to one of my author friends in California, she said, "the words workshop and work can't be separated." I'm enjoying the group mightily, but there is quite a bit of prep involved, I admit.
The workshop will be finished mid-November, but in then meantime, I must get cracking on the task of setting up promotional activities for The Return of the Raven Mocker, which is scheduled for publication in January. I'm preparing to add all the information on Raven Mocker to this website next month, I hope. In the meantime, the book is already available for pre-order at my publisher's site, here. (and Amazon, of course)
And don't miss this month's recipe for pecan pie. It's easy and it's unspeakably delicious and oh, so Oklahoman.