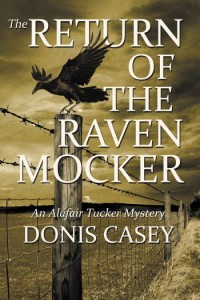 Time has almost come! On January 3, 2017, the ninth Alafair Tucker Mystery, Return of the Raven Mocker, will be released by Poisoned Pen Press. In fact, the press is featuring the entire Alafair Tucker series this month (December 2016), including the first, The Old Buzzard Had It Coming, which is being reissued with a new cover and a new forward, which I wrote, explaining  how I got the idea for a series set in my native Oklahoma, and how Alafair herself came to be.
The story of Alafair's family began in 1912 with Buzzard. Raven Mocker takes us to 1918. World War I is raging in Europe, but Alafair Tucker is fighting her own war as the deadly influenza pandemic of 1918 sweeps like a wildfire through Boynton, Oklahoma. People are dying in droves, most of the doctors are gone to the war, and the nurses are all falling ill themselves. It's an overwhelming pandemic. What a perfect time to commit murder. Who's going to notice?
Alafair suspects that her daughter's neighbors, Nola and Lewis, died of something unnatural.The epidemic is so overwhelming that it is many days before the only doctor left in town can confirm Alafair's suspicions. The only witness, twelve-year-old Dorothy Thomason, is so traumatized that she is rendered mute. Were Nola and her son really murdered, and if so, why?
Could it be that the Raven Mocker, the evil spirit who takes to the air in a fiery shape to rob the old, the sick, and dying of their lives, has returned to bring misery to the innocent?
"Casey's thoughtful ninth Alafair Tucker mystery (after 2015's All Men Fear Me) ably evokes rural Oklahoma in 1918." Publishers Weekly
In celebration of the release of the new book, I'm offering a free paperback copy of either The Old Buzzard Had It Coming, the first book in the Alafair Tucker series, or  The Return of the Raven Mocker, the latest, (winner's choice) to the first two people to contact me at me@doniscasey.com to say they've read Chapter One of Raven Mocker (click here) and can correctly answer the following questions:
What has Alafair changed her mind about?
Where is Charlie?
Be sure I have your email address so I can respond to you.. Offer expires January 15.