Author, actress, and friend Mara Purl included a lovely feature about me and the Alafair Tucker series in her latest newsletter. She recalled a conversation we had a few months ago about how our ancestors call to us.–here is what I sent her about why I write the Alafair Tucker series:
"One of the joys and challenges of writing is that you walk in the shoes of people who are different from yourself. Alafair Tucker is a farm wife with a very large family who lives in rural Oklahoma at the turn of the 20th century. I like to say that Alafair is exactly like me, if I were totally different than I am. She leads a life that couldn't be less like mine, yet I know her intimately, because I created Alafair out of pieces of women that I love. But she's much more than the sum of her parts.The mystery novelist Graham Greene said, "The moment comes when a character says or does something that you hadn't thought of.  At that moment, he's alive and you leave it to him." I first put Alafair on the page, but then she stood up and walked away, and now I just follow where she leads.
Women's lives – the real, everyday, down and dirty business of women's lives, past and present – aren't much celebrated in fiction. A traditional woman's life has historically not held much interest for those who didn't have to, or choose to, live it. A dozen years ago, I started writing about Alafair Tucker almost as an act of defiance. Maybe as atonement, too. Women, myself included, too often believe that in order to be worthy of respect you have to compete in the business world. It's almost as though we believe that Groucho Marx adage, "I wouldn't want to belong to a club that would have me as a member." Yet when we consider the lives our foremothers lived, how smart and innovative and accomplished they had to be, how could I say that their lives were of less consequence? I feel like I'm standing at the end of a long, unbroken line of women, all the way back to Eve, all with one great soul, moving forward in time. Alafair is an homage to all those women who came before me."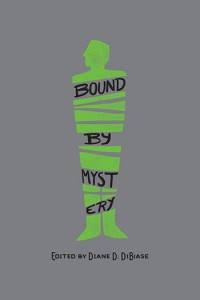 My travels are winding down for the launch of The Return of the Raven Mocker, but I'll still be showing up here and there throughout the spring.  My main event for March is the Tucson Festival of Books, which takes place on the campus of Arizona University, March 11 and 12. I'll be presenting a workshop on writing the historical novel, appearing on a panel, was well as moderating a panel, all on Saturday the 11th. Check out my "Events" page for all the details.
I have an event scheduled at Tempe Public Library for March 4 at 1:00 on the life of a mystery writer. I was going to appear with Fred Ramsay and Betty Webb, but weird circumstances have intervened and neither Fred nor Betty can make it!  THEREFORE, THE EVENT HAS BEEN CANCELED. We hope to reschedule at a later date.
I had an article come out in the Mystery Readers' Journal last month. The theme of the issue is Small Town Cops, and I wrote an article about my adventures in research for the Alafair Tucker series. Sometimes reality is stranger than fiction. I mean, you just can't make this stuff up! Here's the link: http://mysteryreaders.org/journal-index/small-town-cops-ii/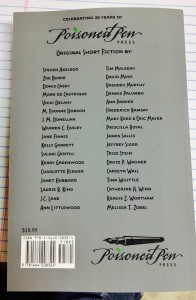 And speaking of short fiction, this year is the 20th anniversary of Poisoned Pen Press, my publisher. To celebrate, the press has issued a collection of short stories by 36 authors who are or have been published by PPP, such as James Sallis, Laurie King, and so many other fabulous authors. Including myself. The collection is entitled Bound By Mystery and is available from Poisoned Pen Press and wherever else books are sold. Including Amazon. The story I wrote for this collection is so different from my novels that it's hard to believe I wrote it. The story is called "Be My Friend". It's a contemporary tale set in England and featuring a guy who has a bit of a problem and a rather unsavory solution to it. Don't miss it!