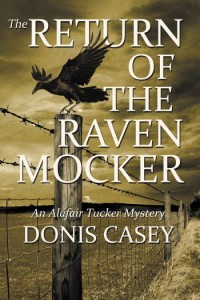 Update to my Update: Apparently the free download is done. Amazon and iTunes are now (Jan. 14) offering The Old Buzzard Had It Coming as a 99¢ download. Which is still pretty good.
Update: Amazon, as well iTunes (below)  is now offering a FREE download of the first Alafair Tucker Mystery, The Old Buzzard Had It Coming, through January 2017. Click here to get your free copy while you can!
Happy New Year! I'm celebrating 2017 by announcing the release of my ninth Alafair Tucker Mystery, The Return of the Raven Mocker, as hardback, paper, and ebook, on January 3. My January events are posted on the "Events" page (click above), but I especially want to invite you to the formal launch on January 24, from 7:00 p.m. until 8:00 p.m., at the Poisoned Pen Bookstore in Scottsdale, Arizona. Address and details on under Events. I'll be appearing with my friend Frederick Ramsay, who is launching his latest novel, as well. It's called Copper Kettle, and it is set in Appalachia 1920, only 2 years after Raven Mocker, and features Jesse Sutherlin, a returning war hero, who survived the trenches of World War I just to return home to the specter of the influenza epidemic and the grinding poverty that has become a way of life for folks on the played-out farmland of his corner of Appalachia.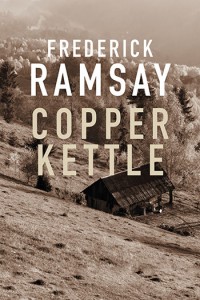 Raven Mocker is a Cherokee legend, an evil spirit who takes the form of a raven and takes wing at night to possess the bodies of the sick and elderly and torment them until they die. When the Raven Mocker returns to little Boynton, Oklahoma, in the fall of 1918, he brings with him the great influenza pandemic that claimed fifty million lives all over the world. World War I is still raging in Europe, but the women of Boynton are fighting their own war as the epidemic sweeps through like wildfire. What a perfect time to commit murder. Who's going to notice?
People are dying in droves, most of the doctors are gone to the war, and the nurses are all falling ill themselves. Alafair and her husband Shaw quarantine their younger children on the farm and Alafair moves into town to care for her stricken daughter Alice and son-in-law Walter.
No one has the time or inclination to wonder about the the circumstance when Alice's neighbor Nola and her son Lewis die, but Alafair suspects that these particular deaths were unnatural. The epidemic is so overwhelming that it is many days before the only doctor left in town can confirm Alafair's suspicions. The only witness, twelve-year-old Dorothy Thomason, is so traumatized that she is rendered mute. Were Nola and her son really murdered, and if so, why?
My publisher, Poisoned Pen Press, is featuring the entire Alafair Tucker series, including the first, The Old Buzzard Had It Coming, which is being reissued with a new cover. I wrote a new forward for it, explaining  how I got the idea for a series set in my native Oklahoma, and how Alafair herself came to be.
In fact, iTunes is offering The Old Buzzard Had It Coming as a FREE download,. The Press aims to promote my series through BookBub, but the promotion won't work as intended unless Amazon also lowers their price for the electronic version of Buzzard to zero as well. Amazon won't lower their price unless enough readers notify them that another outlet (iTunes) is offering the book for free. So allow me help me persuade Amazon to offer Buzzard as free ebook. Here's how:
Please go to the Amazon page for the ebook version of The Old Buzzard Had It Coming by clicking here.
Scroll down to the bottom of the Product Details section where it says: "Would you like to give feedback on images or tell us about a lower price?"
Choose "tell us about a lower price" which will bring up a dialog asking to choose Store or Website.
Click on Website and enter the URL for the iTunes page:
https://itunes.apple.com/us/book/the-old-buzzard-had-it-coming/id1131439110?mt=11&uo=4&at=11lSh9
and and $0.00 for the price AND for shipping cost and then Submit Feedback.
That's all there is to it. If enough people participate, Amazon will drop the price to zero. And if you make it over to Amazon (or iTunes) and the price is already zero, you can download your very own e-copy of The Old Buzzard Had It Coming for nothing.
On top of everything, I'm offering a giveaway of The Return of the Raven Mocker, below. You can read the first chapter of it and all of my other books on this website, by clicking on the "About This Book" link under the thumbnail cover photo on the left.
Thanks for all your support over the years, Dear Reader, and may 2017 be a wonderful year for you and yours.
_______________
Win a signed copy of The Return of the Raven Mocker by being one of the first two people to contact me at me@doniscasey.com to say they've read Chapter One of Raven Mocker  and can correctly answer the following questions:
What has Alafair changed her mind about?
Where is Charlie?
Be sure I have your email address so I can respond to you. Offer expires January 15.