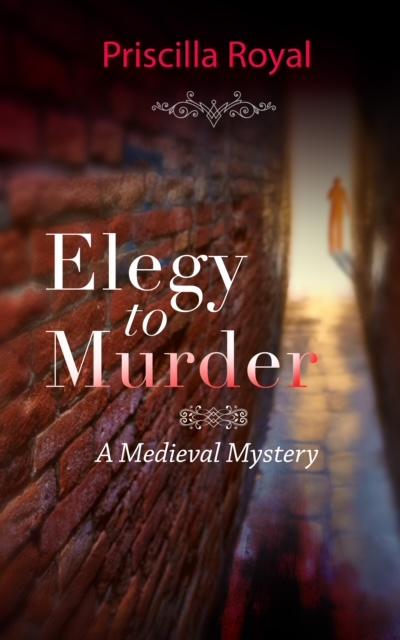 Over the many years I've been writing and reading, I'm always fascinated by other authors and their journeys, and I always want know why they decided to start writing, what keeps them going, what keeps them writing in the face of the inevitable difficulties of life. This month I am so pleased to introduce my guest storyteller Priscilla Royal, author of sixteen fabulous historical mysteries set in 13th Century and featuring Prioress Eleanor and Brother Thomas of the Order of Fontevraud. Whatever you thought you knew about monastic life in Medieval England, think again, for the real-life Order of Fontevraud was a 'double order' of monks and nuns, living under the rule not of an abbot, but of the abbess! I love how Priscilla has made her characters into such real people, who may have lived in a world so different from ours but are as recognizable to us in their loves, hates, wishes and desires as our own families, or ourselves! How her a long, successful career as a historical novelist came to be should encourage every aspiring writer!
Elegy to Murder, the 16th in her series featuring Prioress Eleanor and Brother Thomas of the Order of Fontevraud, is now available! Buy it here. Number 17, Prayers of the Dead, is expected to drop in September, 2021.
Priscilla is a Washington State native who grew up in British Columbia and now lives in Northern California. Check out Priscilla's beautiful website here.
STORYTELLING IS THE WORLD'S OLDEST PROFESSION
I meant that. Remember that scaly little guy with the charming smile in the Garden of Eden? Now he knew how to tell a tale! Eve bought it. Adam literally ate it up.
Unlike most snakes, however, I am convinced that storytellers are born to the craft. We fall in love with words probably before we remember doing so, and the need to create tales grows as we do.
That was true for me. My mother sang to me, read to me, and had me on her lap when she listened to radio programs. Apparently I so loved books as a wee thing that she bought one made of cloth so I could take it into my bath. When told I would start school, my first comment was: "Now I can learn to read!"
To my parents' credit, they rarely censored my reading. The local librarian, however, refused to let me into the adult section even though the book she caught me with was an inoffensive history book. I never read any of those books most children did like Black Beauty or Nancy Drew. But when my mother and I went to the book department at Frederick & Nelson's in Seattle, I was in heaven. History was a passion. Mythology and, of all things, the Iliad, were also early favorites. Good storytelling transcends centuries and even cultures.
Looking back on my elementary school experiences, I believe that children have a special gift for and relationship with fantasy. All of us have times in our young lives when the world is too much for us. We use unabashed creativity to escape, soothe, and survive. But childhood is also the time for rampant curiosity and unfettered imagination. An elementary school buddy recently told me that I came up with short plays about Greek gods. In Grade Five, I wrote a radio play about the surrender at Appomattox from the perspective of a general's horse. (I was praised for my neighing.)
I would have chosen writing as a profession. It was my passion and my solace, but I needed a leak-free roof and food on table. Opting to teach literature and write as a "hobby" seemed the best of two worlds. Then another reality hit: I suffered from toxic stage fright. Teaching was out. I quit graduate school and went to work for the federal government. I also stopped doing any creative writing. My long working hours killed that spark. It was not a happy time.
But the next 30 plus years were an invaluable education to a writer. I continued my wanton reading. I became an avid theater fan (pacing and dialogue training). I discovered Ellis Peters and other mysteries. And I also learned, in my varied jobs within the Civil Service, how to hone my skills to fit a variety of writing needs from legal analyses to budget justifications. Clarity and precision became my goals. And since I dealt with benefit claims during the years survivors of WWII atrocities were filing, I learned invaluable lessons in human experience. From all this, characters can be born with the requisite three dimensions and variety.
As my career ended, I began to write fiction again. When surgery took me away from work for eight weeks, I got a laptop and wrote the first rough draft of a no-research, modern cozy mystery. I was stunned. I had actually written a novel. When I got back to my 9to5, I signed up for the Mystery Conferences at Book Passage in Corte Madera CA. The bookstore also had evening classes in mystery and fiction writing. Katherine Forrest, Michael Nava, Katherine Neville, Gillian Roberts, and Sarah Smith were incredible instructors. It was then that my medieval characters arrived in my head and announced that they had chosen me to tell their stories in a very long mystery series.
After retirement, I wrote for fun, not publication. But I decided to try. I would never be among the giants of mystery fiction, but I wasn't bad. Agent queries, however, went unanswered or were rejected. One told me that his first hopes for my work were dashed because my characters were very boring.
So I looked for publishers who took unagented work. Thanks to Mary Reed and Eric Mayer's wonderful mystery series set in Constantine's time with a clever eunuch for a sleuth, I discovered Poisoned Pen Press. If PPP would publish a series with a eunuch sleuth, they might be open to a 13th century one with a gay monk and an historically accurate Order of monks and nuns ruled by women.
They were. They published my first series book, Wine of Violence, in record time. Oh, and that book deemed so boring? It not only got generally fine reviews but a starred one from Publishers Weekly. Sharon Kay Penman read that first book, liked it, and was kind enough to tell her fans about it. Agents can be wrong.
After publishing fourteen of my books and giving me a wonderful publishing experience, Poisoned Pen Press was acquired by another company. Sadly, the new company and I did not fit well. We got an amicable divorce after my fifteenth mystery. These days, that is not a writer's death sentence. I am now an independent and have published my sixteenth, Elegy to Death. The next, Prayers of the Dead, is in process.
I am having fun.
To a born storyteller, it hurts terribly when an avalanche blocks the road, but you'll find a way to write something to satisfy the need to use words—even bureaucratic memos. A storyteller might love to be on the bestseller list, but that isn't paramount. We strive and long to be the best wordsmith we can be. And in the end, whether we become a classic in our chosen genre, a proud low mid-lister, or the one everyone in the family begs to write down that fun story about grandmama, the highest praise and satisfaction we get is from that delighted reader who tells us that our story pleased.
ELEGY TO MURDER – May 1283. The roads near Tyndal Priory are filled with happy summer pilgrims, but all is not joyful. Prioress Eleanor's loved ones are suffering. Signy, the local innkeeper, is quarreling with her suddenly rebellious foster son. Gytha, Crowner Ralf's wife, suffers failing health. Brother Thomas remains distant and moody after the last adventure. The prioress longs to help them all, but disaster strikes. An itinerant carpenter is badly beaten in the usually quiet village near the priory, and a pilgrim is found murdered near monastic walls. Are the crimes connected? Prioress Eleanor has no right to intervene in a crime outside Church authority, but Crowner Ralf is hunting smugglers on the distant coast. If she does nothing, the killer will escape into the crowds of pilgrims. Or is it too late? Will this be the first murderer she cannot bring to justice?