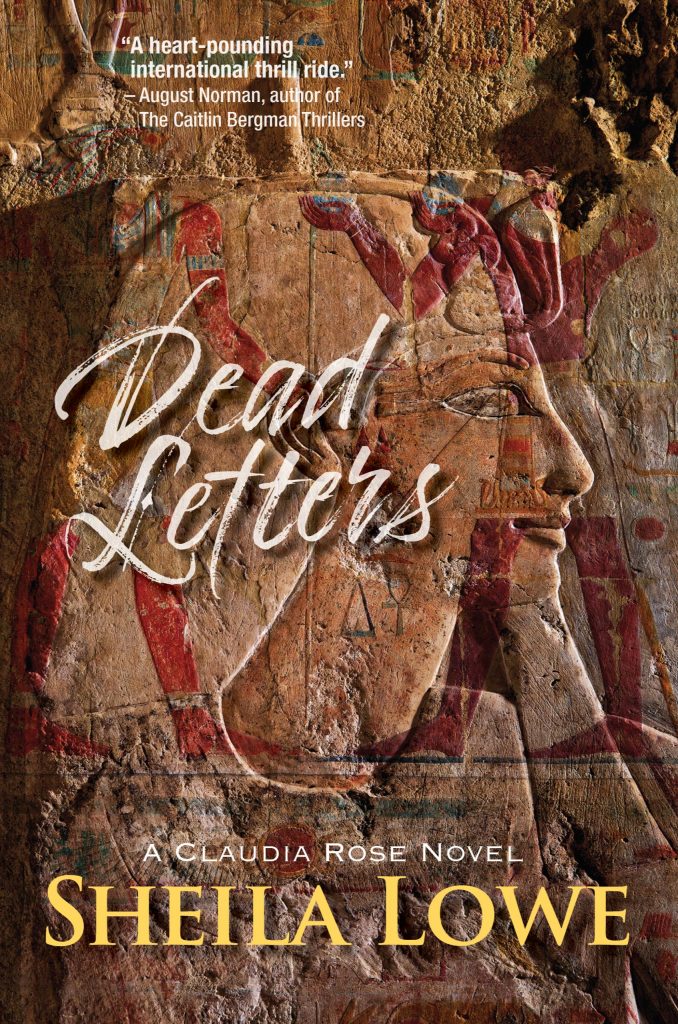 I (Donis) have been doing a little direction-shifting in my life lately, and one thing I've decided to do is host a series of author interviews here on my own website beginning this month. I'm calling the feature Tell Me Your Story. Over the many years I've been writing and reading, I'm always fascinated by other authors and their journeys, and I always want know why they decided to start writing, what keeps them going, what keeps them writing in the face of the inevitable difficulties of life. I am so pleased to introduce my inaugural guest, the inimitable Sheila Lowe, handwriting expert and author of the long-running Claudia Rose Forensic Handwriting series or thrillers, as well as her Beyond the Veil supernatural suspense novels. Her excellent latest Claudia Rose novel is Dead Letters, a heart-pounding thriller set in Egypt, Gibraltar, and London. Sheila has had a fascinating road to success, and has decided to do some major direction-shifting herself with her series. But I'll let Sheila tell you about it herself.
Check out Sheila's fiction website here, and her handwriting analysis website here
My meandering path to fiction.

Almost from the time I read my first fiction book, The Rockingdown Mystery. by Enid Blyton, when I was eight years old, I wanted to write a mystery. It wasn't until I was past fifty that I finally did it. In the meantime, my professional practice as a handwriting analyst and forensic document examiner paid the bills. By the time I had written around fifteen thousand personality profiles, I was ready to kill someone. On paper, of course.
It was finally time. I had already published two well-received nonfiction books, and the first draft of Poison Pen was lurking in my computer. I had expected it to be easy to make the switch to fiction. After all, writing is writing, right? Wrong. Fiction is, literally, an entirely different story. So, as I had done when honing my skills as a handwriting analyst, I threw myself into reading about it. Forty books into my studies, I was lucky enough to be accepted into an intensive week-long class taught by Elizabeth George, whose books I had long admired.
Then, a dear friend talked me into entering Poison Pen in the Southwest Writers Competition. I was stunned to win third place out of 93 entries in the Mystery category. Now I knew I was on my way to publication! Wrong. It took another seven years. Rejections kept saying the story was good, the writing was good, but not strong enough. What on earth did that mean? Cut to the chase: I did what I should have done early on: got an editor. She told me to cut most of the adverbs, which weaken writing. And, I hadn't realized that my protagonist, Claudia Rose, was constantly feeling guilty. That clever editor said readers will forgive character flaws, but they don't want a weak (there's that word again) heroine.
So, I rewrote the book and it was published by Capital Crime, a small start-up press. But guess what happened next: Publisher's Weekly called Poison Pen a "dynamite debut" and gave it a starred review, which led to a four-book deal with Penguin's Obsidian imprint. I'd had no idea it was to be the first in a series, but who was I to say no to Penguin?
I was writing the fourth book, Dead Write, when my wonderful editor left the publishing house and my contract was not renewed. I wrote the next several books for Suspense Publishing, who were terrific to work with. But the story doesn't end here.
Early this year, I began to feel the urge to take greater control of my publishing life. Rather than have my titles distributed exclusively by Amazon, I wanted to "go wide." Lucky for me, I'd just met a young woman who was successfully managing her mystery writer-husband's books and was willing to do the heavy lifting (and there is a lot to do) to get me switched over.
So, I jumped off a cliff and am now working hard to soar. This included editing and/or rewriting all nine of my current fiction titles over about three months. I write better now than I did when they were published, so this was a great opportunity to improve them. They all have beautiful new covers, and have been re-released. I also finished Dead Letters. Book 8 in the Forensic Handwriting mystery-suspense series takes Claudia Rose around the world, looking for her young niece who has disappeared from an archaeological dig in Egypt. The book is set for release on August 3, 2021 and the reviews so far are gratifying.
What I haven't mentioned yet is how writing saved my life at a time when I was badly in need of a distraction. In 2000, my daughter, Jennifer (27), was the victim in a murder-suicide. As a handwriting analyst, I had seen red flags for danger in the handwriting of her new boyfriend, Tom Schnaible, a 34-year-old federal agent. Handwriting can reveal a great deal of important information, but is only valuable if the listener heeds the message. Tom was interested in hearing my findings, and the three of us discussed his authoritarian need to be in control, which would not fly with Jen, who had resisted any form of control from childhood on. They were together for less than a year when he took ultimate control and ended their lives.
I had started writing Poison Pen about three years earlier and had set it aside. As my family stumbled through this horrific experience, I got out the manuscript and began the work of finishing it. That's when I entered the competition.
There is no doubt that my daughter's murder has informed everything I've done in the twenty-one years that have passed, including my writing. The most important thing I've learned is, there is no death, and Jen is still very much involved in my life. In fact, she was a strong influence in my last book, Proof of Life, a story of supernatural suspense that is the sequel to What She Saw. I'm now working on developing the plot for The Last Door, the next book in the Beyond the Veil series.
At this point in my life, I would love to make writing my full-time occupation, and I'm going to keep doing everything in my power to make that happen.
Sheila Lowe writes stories of psychological suspense that put ordinary people into extraordinary circumstances. Like her fictional character Claudia Rose in the award-winning Forensic Handwriting series, Sheila is a real-life forensic handwriting examiner who is recognized as an expert in the court system. She also writes the Beyond the Veil paranormal suspense series and nonfiction books about handwriting and personality. She is often seen in the media when handwriting is in the news (think Meghan and Harry).