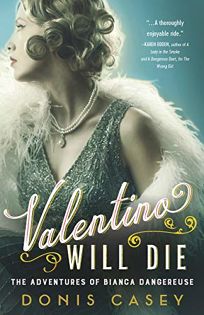 Sept 10 Update: Congratulations to Donna and Elizabeth for winning this month's drawing! The Magic Cowboy Hat chose your names from all the entries! For the rest of you entrants, thank you very much, and look for another drawing in October. I wish I had enough books to give one to you all – but even if you didn't win, remember that buying a book in any format is what allows authors to keep writing and your local bookstore to stay in business!
Ah, September. In my mind September has always the real beginning of another year. That's what comes with spending most of your adult life in academia. So let us begin what we hope will be a much better year by doing another giveaway.I've recently joined a Facebook group called Art Deco, which is a wonderful resource to research into late 1920s and early 1930s for my Bianca Dangereuse Hollywood Mystery series. How did Bianca's world look? How did she dress? What did she drive? Who were her friends in Hollywood? One of her best friends in the movie business was Rudolph Valentino, heartthrob star whose mysterious death in 1926 caused a worldwide frenzy of grief. Was he murdered? Bianca is determined to find out. This is the premise of this month's giveaway, two paperback copies of my latest Bianca Dangereuse mystery, Valentino Will Die.
If you'd like to enter the drawing, click on "Contact", above, and type "September drawing" and leave your name and email address. No one will see it but me. On September 10 I will place your name in the magic cowboy hat and draw two lucky winners. You can read an excerpt of Valentino Will Die by clicking here. If the magic cowboy had does not choose you this month, Valentino will Die is available for sale as a paperback, an ebook, or an audiobook anywhere books are sold.
So come immerse yourself in the glamorous '20sThat time period was one of the most artistically beautiful in modern history, in my humble opinion.