Time for another monthly drawing – and since Halloween is around the corner, I'm offering 3 paper copies of the spookiest entry in my Alafair Tucker Mystery series, Crying Blood.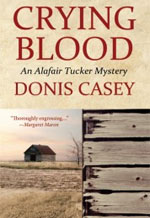 I call Crying Blood my "Native American book", since it deals with the consequences of the allotment of Native lands after Indian Territory became Oklahoma. I wrote this book several years before David Grann's Killers of the Flower Moon, about the Osage Murders of 1924. Crying Blood is set during the fall of 1915 and is inspired by a similar incident passed down in my husband's Choctaw family lore, only within the Muscogee Creek nation, south of the Osage lands in Oklahoma. Creek land was broken up and allotted in the late 1800s, and the often devastating consequences of that action on individuals and on the tribe itself carried through for generations.
Crying Blood is a bit different from the other Alafairs. It features Shaw Tucker, Alafair's husband, and deals with ghosts of the past – family ghosts, tribal ghosts, and following the Creek ritual of "crying blood". Not quite vengeance, not quite and eye-for-an-eye, but doing whatever it takes, and however long it takes, to restore balance after an unjust death throws the universe out of kilter. You can read an excerpt from Crying Blood here.
If you're interested in Native American lore, daily life on a self sufficient farm in 1915, and "haints" and monsters, and would like to enter the drawing, click on "Contact", above, and leave your email address. No one will be able to see it but me. I'll draw the 3 winning entries on Saturday, October 9. Good luck!
Or, if you just can't wait, here's the Amazon buy-link