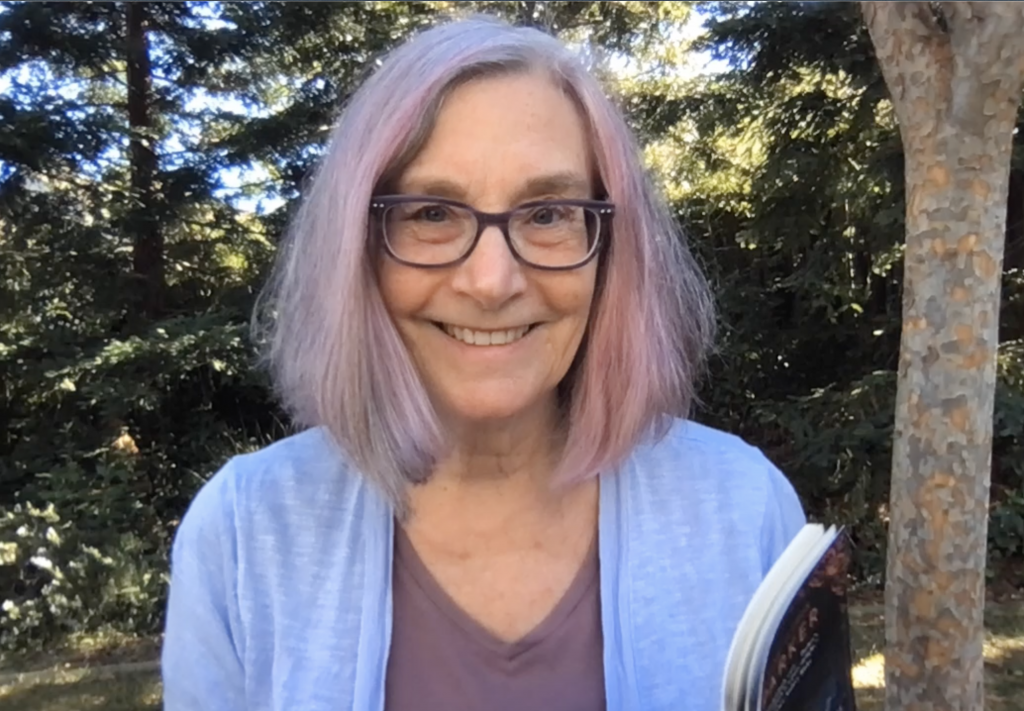 Science writer by day and fiction writer at night, Ann pens the award-winning Silver Rush mystery series, set primarily in 1880s Colorado, and more recently in San Francisco, California, the "Paris of the West." Published by Poisoned Pen Press (a Sourcebooks imprint), the series features a truly unique protagonist, Inez Stannert; smart, independent, a stalwart supporter of other women, and slightly shady. I love her. The series was named a Booksellers Favorite by the Mountains and Plains Independent Booksellers Association. The eighth and newest in the series, The Secret in the Wall, is one of my favorite reads of the past year.

My Journey Through Fiction : It's All an Experiment
Ann Parker
Like many others, my writing life began with reading. The earliest book I can recall clearly is The Tall Book of Mother Goose, copyright 1942, illustrated by Feodor Rojankovsky. Before I could read the words, I just looked at the illustrations and counted the page numbers. When I finally could read, a whole world opened up to me. Among my memorable childhood reading achievements were working my way through my mother's 1920s-era My Bookhouse series and the 1950s 16-volume set of The Golden Book Encyclopedia. I devoured books, all kinds of books, but aside from that encyclopedic endeavor, most of my reading was fiction. I found stories a wonderful escape from a chaotic childhood. At night, to help myself go to sleep in a fractious household, I began to create my own tales, spinning stories in my imagination. This habit spilled from nighttimes to daytimes, and my elementary school report cards were littered with lackluster grades and repetitive comments from teachers along the lines of: "Ann is not applying herself," and "Ann is not paying attention in class," and, even more pointedly, "Ann daydreams too much."
Despite my propensity for creating stories, when I entered college and it came time to focus on preparing for a career, "being a writer" wasn't even on the list. Sure, I took so many literature courses I ended up with an unintentional double major, but my first love was science, specifically, astronomy. I wanted to become an astronomer or astrophysicist or upper-atmospheric scientist (clearly I was longing for a life that wasn't earthbound). However, after getting my butt thoroughly kicked by a statistical physics course at University of California, Berkeley, my astronomy advisor advised me to switch majors to physics, where he assured me it would be easier to find employment. Luckily for me, one of my physics professors, recognizing my writing facility, suggested that I consider finding a position in science or technical editing. Thank you, Professor Amer, wherever you are: your advice was the springboard to my life-long career as a science writer.
I loved my day job (still do!) but as the years went on, I continued to toy with the idea of writing a novel in my limited spare time. However, nothing I came up with really "set my soul afire" until a family reunion in the mid-1990s, when my Uncle Walt mentioned that my grandmother had been raised in Leadville, Colorado. This bit about my grandmother was news to me, and I had long fancied myself the family historian! Astonished, I said (somewhat incongruously), "Leadville? What's that??" Uncle Walt waxed enthusiastic about the history of this mining town located high in the Rocky Mountains, concluding with "Ann, I know you're thinking of writing a book. You should research Leadville and set a novel there!"
Intrigued, I turned to a tour book I had at hand—Stephen Metzger's Colorado Handbook—to learn more about this silver-mining town of my grandmother's youth. This is the paragraph that hooked me into setting a story in Leadville:
"During the early 1880s, Leadville was a rambunctious town with three breweries, brass bands playing every night along State St., drunken women driving carriages and smoking 'long black cigars,' fights, vigilantes, rowdy gambling halls where the mine owners played for large stakes, and general sense of silver-induced frenzy . . . One winter a gravedigger hit a silver vein while preparing to bury a body, and the cemetery was immediately staked out—the dead man was left in a snowbank, frozen stiff, until spring."
From there, it was simply a matter of following Uncle Walt's exhortation. I took the research skills I'd honed from decades of science writing and began haunting libraries, perusing old newspaper records, interviewing subject-matter experts, and reading fiction and non-fiction pertaining to Leadville's silver rush era in the late 1870s and early 1880s. I eventually hopped a plane and visited the town, walking through its Victorian-era downtown and hiking its historic mining district, trying to envision the area in 1880.
I wrote my first book, the historical mystery SILVER LIES, as an experiment. I took my time and "pantsed" my way through the writing process—that is, I eschewed outlining and opted for going wherever serendipity and inspiration led me. That first draft ended up being 160,000 words long. (Yikes!) Author Margaret Coel graciously agreed to look at that draft and was generous with her praise, while adding "160,000 words is waaay too long." Recognizing the wisdom of her words, I pulled out the editing chainsaw and scalpel. The result after much cutting and slashing and killing of darlings was a 116,000-word historical mystery set in the Victorian West.
It was now about 1998, and time to move on to the next stage in my writing journey: querying agents. However, I noticed that most of the agents I pitched in person went from "vaguely curious" to "completely blank-faced" the moment I mentioned Leadville and Colorado. The most common response was along the line of "Is this a Western? I don't do Westerns." So, I retrenched and tinkered with my approach to emphasize how my 19th-century novel resonated with current events. At the time I was pitching, the dot-com boom was sweeping the nation, with huge repercussions in the tech community of my day job. I watched as folks at the scientific R&D institution where I worked seemed to lose all common sense, throwing aside secure, cutting-edge research positions for the chance to "get rich quick" at elusive start-ups with seductive stock option plans. It was all so much like what I'd read and researched about Leadville during the silver boom, when folks left their homes and families to race to Leadville thinking that they'd stake a claim and make a quick fortune in silver.
I had better luck with this approach, eventually finding an agent who was enthusiastic about the book and (surprise, surprise!) had been to Leadville. He did what agents did back in the late 1990s and approached all the major publishers, but to no avail. Again, the responses tended to run along the line of "What is this… a Western? We don't do Westerns" or the catch-all turn-down of "I liked it but didn't love it." After he explained he'd done all he could, my agent suggested that I set my historical mystery aside and consider writing a different book. I wasn't ready to give up on this, my first-born, so agent and I amicably parted ways. Although I lost steam for a while, I didn't lose heart, and I eventually continued on my own, querying smaller, independent publishers.
With Poisoned Pen Press, I struck "pay dirt." It was a long process—about a year from query to acceptance—but I hung in there and SILVER LIES was published in 2003. The book garnered a starred review from Publishers Weekly, was named a best mystery of the year by both PW and the Chicago Tribune, won the WILLA Award for Historical Fiction, and was a finalist for both the Western Writers of America Spur Award and the Bruce Alexander Historical Mystery Award. (And did I feel just the tiniest spark of vindication re: all those early rejection letters? Yep, I did.) Of course, the story didn't stop there: Poisoned Pen Press wanted more of Inez and her adventures. Luckily, Leadville's tumultuous history gave me plenty to work with.
With the eighth book of the series, THE SECRET IN THE WALL, now out in the world, the road looks different when I peer forward and back. Three books ago, in A DYING NOTE, the setting of my series switched from Leadville, Colorado, to San Francisco, California—a move that came with its own set of challenges. Poisoned Pen Press is no longer an independent publisher, but an imprint of the publisher Sourcebooks. Two books back, I signed with another agent. I wonder what the next plot twist in this unexpected journey will be. Whatever it is, I am ready to embrace it. The experiment continues!
_________________
Visit Ann's website at https://annparker.net