Dec. 24 – Update number three! Frankie's still in manuscript hell, but she will be here soon! I'll let all you Dear Readers know on Facebook, all my groups, and here, when our Christmas treat is up and ready. It'll be worth the wait, believe me.
Dec 19 – One more update! This month's Tell Me Your Story guest, Frankie Bailey, is facing a deadline and will have her story ready to go by December 23 at the latest. Be sure and visit this site again between the 23rd and January 1 to see Frankie's story, because she is a fascinating author!
December 18 – Update – congratulations to Amanda for winning her copy of A Twist of Murder! Check in with us again in January for a new giveaway.
Oh, dear, is it December already? Time for another giveaway, and what could be more appropriate than a mystery novel featuring Charles Dickens as an amateur sleuth? I'm offering one paperback copy of Heather Redmond's new release, her fifth Dickens of a Crime Mystery, A Twist of Murder.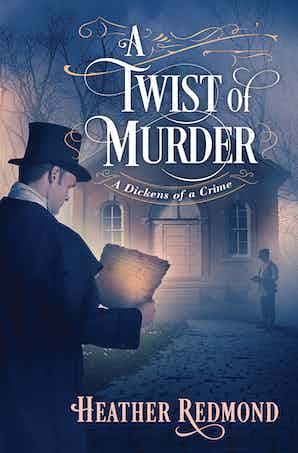 Twist is set in 1836, just as Dickens is about to have his first story serialized. And yes, it features a boy named Oliver and lots of actual twists! Here's what the cover blurb says about it: "In Victorian England, aspiring author Charles Dickens is on the case again – in pursuit of missing orphans, legendary treasure, and a cold-blooded killer in the latest installment of Heather Redmond's charming series that reimagines the famous writer as an amateur sleuth."
If you'd like to enter the drawing, click on "Contact", above, and enter your web address. No one will see it but me, and I promise I will never share your information with anyone. I'll place all the entrants' names into the Magic Cowboy Hat and draw the winner on December 16.
This is your perfect opportunity to discover a fun and imaginative new historical mystery series to begin the new year! Good luck to all.