I live in Arizona, some 1200 miles away from Boynton, the little Oklahoma town I write about in my series. Both of my parents were raised in Boynton, and I spent a lot of time there in my childhood. My grandmother owned Mrs. Casey's Cafe on the main street for over fifty years.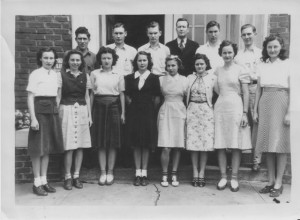 The period I write about is the early 1900s. The book I'm writing now is set in 1916. Boynton was quite the thriving community back then, with a population of around 1800 souls who lived within the town, and many more on surrounding farms, including my great-grandparents and their children. In 1916, Boynton had two banks, five church buildings, a weekly newspaper, a brick plant which employed 100 men, an oil refining company, four general merchandise stores, two large hardware houses, a furniture store and farm implement story. There was also a big cotton gin, which I remember well from my own childhood. The 1916 Directory of Boynton states that "Altogether Boynton is one of the most progressive cities in the state, and its future is full of brilliant promise.
It didn't quite turn out that way. The Great Depression did it in, like it did so many Oklahoma farming communities. The brick plant was already derelict by the time I came along, and the refinery was long gone. But for most of my girlhood, Boynton boasted some 800 souls and had a nice little main street with a grocery and other shops, including a drug store with an old-fashioned soda fountain that sold three flavors of ice cream, one scoop for a nickel.
After my grandmother died in 1979, I didn't go back to Boynton again until 2006, when I did a book signing event for Hornswoggled, held in the Boynton Historical Society building, which when I knew it, was a Dairy Queen. Things had changed even more in the intervening thirty years, and not for the better. The west side of the main road through town is but an empty field now. Just a building or two remains on the east side, including the building Grandma's cafe inhabited. It's now some sort of domicile. My grandmother's house is gone, though the elm tree my father planted when he was eight (that would have been in 1930) was still there. The 2000 Census says that the town's population was 275, though I'm guessing it's much less than that now. The old Christian Church that my great grandfather helped found is still there.
Why do I ponder on this, you may ask? There is another little OK town about fifteen miles north of Boynton called Haskell, where my mother's parents retired and where my uncle and cousins lived when I was a kid. Haskell is still a going concern, and in order to maintain a connection to the homeland, I have been taking Haskell's weekly newspaper, the Haskell News for several years. I just received last week's edition today, and what do I find but the following article about Boynton:
Not Boynton's finest hour…Boynton is finding itself in the headlines. This small town has had money struggles for several years, some of it their own doing,some of it not..Town Hall closing for several days, not holding regular elections…a warrant has been issued for the Town's mayor and administrator on misdemeanor warrants for nepotism. On top of everything, they closed the high school where my parents, aunts and uncles, and cousin went to school.
All in all, when I write about the Boynton that Alafair Tucker and her family inhabits, I might as well be writing about Atlantis – a place that only exists now in my dim racial memory.
The photo is the Boynton High School graduating class of 1940. By the way, the handsome devil with the smoldering look, second from the right in the back row, is my dad. (click on the picture to make bigger)