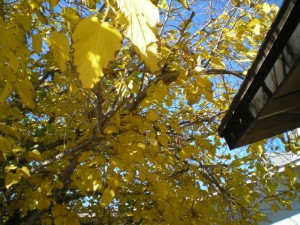 We don't generally have much autumn color here in southern Arizona. We don't have much winter, either. What usually happens is that the trees stay green until late December or early January, then one day all the leaves turn brown and fall off with a giant "whump". The branches are bare for a week or so before the buds come out and it's spring. This year, though, I'm seeing some pretty color on some of the trees around town, including the mulberry tree in my own back yard. I'm enjoying it while I can.
It's only a few weeks now until the debut of my latest book, Crying Blood, and I'm in the midst of planning what I'm going to do to publicize it's release. It's been almost two years since The Sky Took Him came out, which is a long time for readers to remember who you are. Unfortunately for me, I won't be able to do lots of traveling after the release, so I'll be trying to come up with electronic ways to get the message out. On that note, if you have a book club or a group that would like to get together with me, I'm always up for a conference call or a Skype call if you are. Drop me a line and we'll see what we can do.
The launch party for Crying Blood will be at 5:00 p.m. on January 29 at Poisoned Pen Bookstore in Scottsdale, AZ. I'll be appearing with fellow Poisoned Pen authors Jeffrey Siger, who writes a wonderful series set on a Greek island, and multi-starred debut author Tina Whittle, as well as the wonderful Alaskan mystery author Dana Stabenow. I hear there will be wine and goodies, so I hope you'll join me if you're anywhere near Scottsdale at the time.
And speaking of guest blogs (was I? I meant to.) For this entire week of December 12 to 18, an interview with me will be posted on the Mysterious Writers blog. Click on the highlighted blog title to go over and have a look. I'm always entertaining and insightful, at least in my own mind.
Oh, and I have been adding a few things to this web site lately. I've put links to the Kindle and Nook editions on each of the book pages to the right of this column, as well as to the audio book editions. I've also updated the "Truth or Fiction" page to include the story behind the characters and events in The Sky Took Him. I always wait a while before telling the truth behind the fiction in the books, since I don't want to give away any spoilers. So you'll have to wait a bit to find out how much of Crying Blood is based on fact. However, if you just can't wait to read a bit of it, I did post an excerpt of Crying Blood on its "About This Book" page. Enjoy.