And quite the party it was, too. Four Poisoned Pen Press authors launched our books on the same evening, January 29, with a book talk and signing, cake and champagne. (Proseco, which is basically the Italian version of champagne, the host Barbara Peters hastened to correct us.) If you'd like to read an incredibly thorough description of the event, Lesa Holstein posted the whole magilla on her website, Lesa's Book Critiques.
It has been almost exactly two years since I launched a new book, which is an eternity in the genre book world, so I made a night of it. After the bookstore event, the four authors and several others from the local book scene gathered at the home of Poisoned Pen bookstore owner and edtior Barbara Peters and her husband, publisher and gourmet cook Robert Rosenwald, for a buffet supper that would knock your socks off. Rob made a cardamom infused cheesecake from scratch (he even made the cheese!) that I'm still dreaming about. Even better than the food, though, was the chance for me to spend some quality time with my three fellow authors, Jeffrey Siger, Tina Whittle, and Dana Stabenow.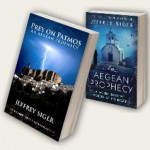 Jeffrey Siger left his life as a lawyer in New York City to write of mystery and intrigue on his beloved Greek island paradise of Mykonos -as only a local could. His work is a best selling phenomenon throughout Greece – among tourists and natives alike. He was introducing his third novel featuring Chief Inspector Andreas Kaldis of the Greek Police's Special Crimes Division, Prey on Patmos.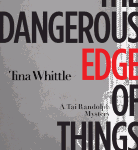 The delightful Tina Whittle was launching her multi-starred debut novel, The Dangerous Edge of Things, which is the first of a series set in contemporary Atlanta featuring gun-shop owner Tai Randolph. Tina, her husband and daughter, were making the most of their first trip to the Phoenix area.

I hardly need to explain who Alaskan author Dana Stabenow is. Her very first book, A Cold Day for Murder, won the Edgar for best paperback original. That was eighteen books ago. Yet on the 29th, she was debuting the PPP hardback reprint of Cold Day. Then on the evening of Feb. 1, she had her very own Poisoned Pen event for her newest Kate Shugak novel, which she herself considers her best book ever, Though Not Dead.
Next personal appearance for me: on February 10, 2011, from 3:30 to 5:00 p.m. I'll be at Tempe Public Library, along with historical novelist Lauren Willig, for a book discussion and signing that will include Coffee, Tea, Chocolate, and assorted pastries! The cost for this event is $5 and registration required. Kim Garza of Tempe Public Library asks that you please register by Feb 10. You can do it by emaiing kim_garza@tempe.gov or phoning 480-350-5557. Click on "Events" at the top of this page for the address.
Also, don't miss my guest interview on February 7 at Kittling Books. These are some of the most interesting questions about me and my writing I've ever answered in a blog interview. Here's the address: www.kittlingbooks.com