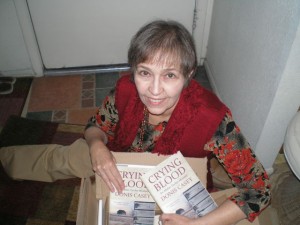 The day has finally come. I got home late yesterday afternoon from speaking to a writing group in northeast Phoenix, and found two boxes on my doorstep – one large and one smaller. Contained therein were 25 hardcover copies and four softcover copies of the fifth Alafair Tucker Mystery, Crying Blood. It's always a satisfying day when you finally hold the finished product of a couple of year's work in your hands for the first time. It has in fact been exactly two years since The Sky Took Him came out, and there were moments between then and now that I had my doubts that the fifth book would be finished in the foreseeable future.
But lo, here it is. The official pub date is February 1, 2011, but the book is actually available for sale right now, both in hardcover and soft. On the right side of this screen, under the icon of the Crying Blood book cover, if you'll click "About this book", you'll find I've posted an excerpt of the book so you can check it out and hopefully whet your appetite. I've also added links to my publisher's website, Amazon (for the Kindle edition), B&N (for the Nook edition), and the Independent Bookseller's site so you can find your nearest independent bookstore and advise them to pick up a few copies. Personally, I think you should ask you local library to add a few copies to the collection. It's available in large type and as an audiobook, too.
Poisoned Pen Bookstore in Scottsdale, Arizona, is hosting the launch party on Saturday, January 29. I'm planning my ensemble even as we speak. Please come to the party. I'd love to see you. Here's your invitation.
Please join me for the launch of my fifth Alafiair Tucker Mystery
Crying Blood
January 29, 2011, at 5:00 in the evening
at Poisoned Pen Bookstore,
1404 N. Goldwater Blvd, Suite 101, Scottsdale, AZ 85251
I'll be joined by authors Jeffery Siger, Tina Whittle, and Dana Stabenow for a Poisoned Pen Press Party with cake and champagne!
"Powerful as a blue norther sweeping across the Creek Nation, Crying Blood is a gripping entry in Donis Casey's superb Alafair Tucker series."  –Carolyn Hart
For more information, see the Poisoned Pen website at www.poisonedpen.com, or call (480) 945-1023