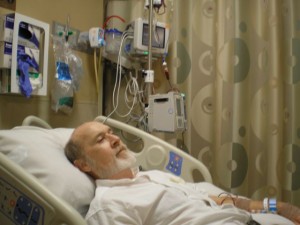 We got up at an ungodly hour this morning to get to the hospital for Don's transfusion. Traffic was light, so it only took us about fifteen minutes to make the six mile trip. I dropped him off at the door and parked, and found him sitting in a chair by the door when I came in. It's a long walk from Admitting to the Outpatient Procedure area, and since the morning pain meds hadn't kicked in, he didn't think he could do it. I called for a wheel chair.
We got upstairs right on time for his appointment and he gratefully stretched out on the bed and snuggled down under a nice warm blanket while the incredibly sweet and gentle nurse Susan took his vitals and hooked him up. Nothing to it after that. You just lie there and let it drip into you. I sat next to the bed and worked crossword puzzles while he read the sports. They brought by a lunch tray and we both picked at it. He wrote some Christmas cards and I read (A Clash of Kings by George R.R. Martin. A friend lent it to me. I didn't know if it would be my kind of thing, but I can't put it down in spite of myself. Thanks, Ronnie)
Eventually I got up and took a walk around the hospital just to get a little exercise while he read his poetry book and napped. After four hours, the last unit dripped out. The transfusion order was only for two units, which surprised us, considering how low his blood count was. And when we were done, the nurse said that he should have his blood tested next week, since two units probably wasn't going to do the trick. His belly still hurt when he stood, so he asked for another wheelchair ride back downstairs.
On the way home, he told me that the idea of an operation was beginning to appeal to him, for he didn't know how much longer he could go on like this. We have a branch of the Mayo Clinic here in the Phoenix area. I may give them a call tomorrow.