I swear, I am the worst photographer. Last Friday I attended the 2012 Poisoned Pen Conference at the Arizona Biltmore in Phoenix and attempted to take pictures, as usual, and as usual, few of them came out at all and those that did were–well, judge for yourself. My problem (among others), I think, is that I don't know how to adjust for the light in the room. When I use a flash, the foreground is washed out and the background is dark. When I don't use a flash, it's all too dark, or it's blurry because I can't keep the camera still enough for the longer shutter time. Even if I could figure out the lighting, my timing and composition is nothing to brag about. I need a better camera or some photography lessons, one.
I any event, I enjoyed the conference. Ended up with half-a-dozen titles I now must read. The authors whom Barbara Peters invited this year all write mysteries with exotic settings:
Howard Anderson, Albert of Adelaide, about a platypus going rogue in Australia.
Mark de Castrique, The Thirteenth Target, a thriller set in the Federal Reserve system.
Timothy Hallinan, (one of my very favorites), The Fear Artist, a Poke Rafferty thriller set in Bangkok.
Alex Kava, Fireproof, Maggie O'Dell works arson and murder in DC. Here're Alex (l) and Barbara on the dais. Enlarge the pic and I guarantee you'll see them.
Jesse Kellerman (son of Jonathan and Faye), The Potboiler, a literary mystery about two authors.
Martin Limon, The Joy Brigade (had to have), a Lee Child style thriller set in North Korea in the 1970s.
Francine Mathews, Jack 1939 (had to have), JFK, spy, FDR and J Edgar as you have never seen them. Francine also writes as Stephanie Barron
Dana Stabenow, lunch speaker, Restless in the Grave, bestselling author of the Kate Shugak mysteries and the Liam Campbell mysteries.
If you've never been to the Arizona Biltmore, it's quite a thing to see. It's a resort/hotel/community which was first built in 1928 and features architectural details designed by Frank Lloyd Wright. The conference room we were in has a vaulted cooper roof and Wright-designed Deco tiles. You can see them in this photo of my friend and fellow PPP author Fred Ramsay.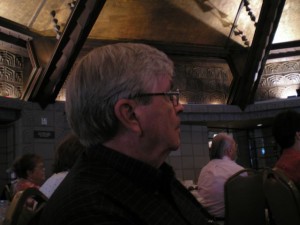 In other news, my husband is still improving ever so slowly. We visited the surgeon this morning, and after examining the surgical wound and punching around on the belly, he released Don. So, one less doctor to see. He's still under the care of the wound doctor, and he'll be seeing the GI guy in a few weeks for another colonoscopy.