…since last we spoke, Dear Reader. It was mostly a long and upsetting month with poor hubby and his continual post-op nausea and lack of energy. Doctor after doctor, total inability to gain weight (him, not me, sadly). HOWEVER. Just over the past week or so, there has been an amazing turnaround. The nausea has abated, if not gone completely away, and he has developed an interest in food again. He feels better, and has started taking walks and driving the car again. This very day we made our last visit to the wound specialist, who pronounced Don's Frankenstein-like belly wound healed (though he is to be careful about exercise and lifting for the next year!) How this came about so suddenly I don't know. Do I trust it? I don't try to predict the future any more. We have both decided to simply make our plans as though everything is going to be dandy from this day forward.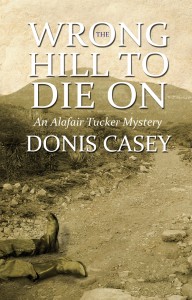 So I am doing just that. The next Alafair Tucker Mystery, The Wrong Hill to Die On, will be available in both hardcover and paper at the end of October (in fact you can pre-order it now at http://poisonedpen.com). I've been planning events for here in the Phoenix area and in California. This far I have eight events set up, at all of which I will be joined by the spectacular Canadian mystery author, Vicki Delany, whose Gothic mystery, More Than Sorrow, is coming out from Poisoned Pen this September. I am so happy and honored to be touring with Vicki. I love her books, and she is a wonderful speaker. I really hope you will mark your calendar, Dear Reader, and trek out to see Donis and Vicki's Ginormously Entertaining Book Tour when we are in your vicinity. Here is our schedule as it stands now:
Thursday, Oct. 25 at 2:00 – Velma Teague Library, 7010 N. 58th Ave., Glendale, AZ (http://glendaleaz.com/library)
Friday, Oct. 26 at 2:30 – Coffee and Crime, Desert Foothills Library, 38433 North Schoolhouse Road, Cave Creek, AZ (http://desertfoothillslibrary.org)
Saturday, Oct. 27 at 2:00 – Poisoned Pen Bookstore, 4014 N. Goldwater Blvd #101, Scottsdale, AZ (http://poisonedpen.com)
Sunday, Oct. 28 at 3:00 – Authors and Artists, with Donis, Vicki, the fabulous Betty Webb, and the equally fantastic Fred Ramsay, The authors talk and sign, followed by an art raffle and book sale to benefit P.E.O., a Philanthropic Educational Organization which offers grants and loans to women seeking to further their education. Free and open to the public. The event will be held at University Presbyterian Church, 139 East Alameda Drive, Tempe, AZ (http://upctempe.org) More information  about this event at http://www.facebook.com/AuthorsAndArtists2012
Thurs. Nov. 1 at 6:30 – Book Carnival at 348 S. Tustin Ave in Orange CA (south of LA proper) (http://annesbookcarnival.com)
Fri., Nov. 2 at 7:30 – Mysterious Galaxy Bookstore at 2810 Artesia Blvd. in Redondo Beach, CA (http://mystgalaxy.com)
Sat. Nov. 3 at 2:00 – Mystery Ink at 8907 Warner Ave #135 in Huntington Beach, CA (http://mysteryink.com)
Sun. Nov 4 at 2:00 – Book'em at 1118 Mission St, South Pasadena, CA (http://book'em.com)
Also: Poisoned Pen Press is currently offering the first installment of several of their series as FREE ebooks, in hopes that you will enjoy them so much that you'll want to buy the rest. My first Alafair novel, The Old Buzzard Had It Coming, is one, as is Vicki's In The Shadow of the Glacier, Betty's Desert Wives, and Fred's Artscape, and many other wonderful mysteries. What a great opportunity to discover new authors and series. Check it out at http://www.poisonedpenpress.com/discover-mystery/
And last but not least, keep your eye on this site. Do you hear hammers and nail guns? The plan is to update the website before this October, so keep your fingers crossed for me.