I'll be doing several events in January, as well as trying to make progress on the new book.  I've posted the details of three of my local January gigs on the Events page, a plotting workshop for the Arizona Authors Association on January 5, a book signing at the Arizona Historical Society on January 18, and The Big Read Writing Conference in Surprise, AZ, on January 26. That should be fun – hors d'oeuvres and all.  If you are an aspiring writer yourself, the Jan. 5 event and the Jan. 26 event are both something you should check out.
I mentioned that I had a jury summons for today, and I'm glad to tell you that my group didn't have to report to the Maricopa County Superior Court this morning.  I'm always perfectly willing to do my duty as a citizen, but for some reason the courts always send me a summons at the worst possible time.  I have the workshop on Saturday, and could just see myself getting picked for a jury.  I was considering acting crazy if I had gotten as far as an interview.  (I'm kidding. Don't turn me in.)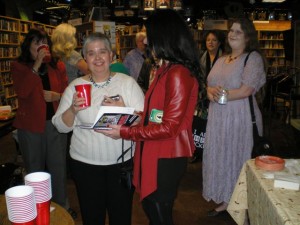 The inimitable Lesa Holstine, of Lesa's Book Critiques fame, is leaving the Phoenix area to take a position with the Evansville, IL, Public Library.  Lucky, lucky Evansville.  On Dec. 29, (my birthday, BTW) I attended a going away party for Lesa at Poisoned Pen, arranged by Chantelle Osmont and hosted by Barbara Peters, with a cake from Louise Penny.  It was a great do.  Too bad we have to be losing Lesa as an excuse for a party.  Have a great life in Illinois, Lesa.  I'm sure our paths will cross again.