Yes, Dear Reader, the NEA is featuring Johm Steinbeck's Grapes of Wrath as their Big Read this year, arguably the most famous book ever written about Oklahomans.  And as you all well know, I am the author of a historical mystery series that is also about Oklahomans, though it is set in a very different Oklahoma than the one Steinbeck wrote about.  But before I get carried away on the topic of portrayals of my native state, let me get to the point, which is that I am honored to be included in the West Valley Arts Council 2nd Annual Writers Conference on Sat. Jan 26,  from 1:00 p.m. to 5:00 p.m. at the Heritage Club in Marley Park, 15210 W. Sweetwater Ave., Surprise, AZ –. The conference is open to all.  Come and  learn from several published authors about the publishing process as well as tips and tricks to writing. The cost is $20 for one or $30 for two. Wine and hors d'oeuvres will be served following the conference where participants will have an opportunity to have books signed and to talk with the authors. YOu can find out more info by calling  623/935-6384,or going to the Big Read website at   http://www.neabigread.org/communities/?community_id=1103
In other news, last Friday I participated in a group book signing at the Arizona Historical Society Museum with several members of our local chapter of Sisters in Crime.  The AHS Museum was a great venue, as you can see.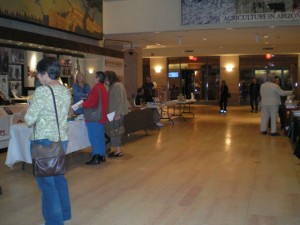 Here's the whole group: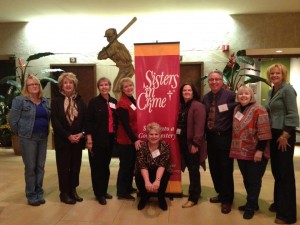 And finally, on Saturday I schlepped up to the Poisoned Pen Bookstore to hear Priscilla Royal talk about her seventh Medieval mystery featuring Prioress Eleanor and Brother Thomas in 13th Century England, The Sanctity of Hate.  I love this series. And I love this photo I took before the program of Priscilla enjoying a bon mot from another of my favorite PPP authors, Fred Ramsay.