I hope everyone had a very nice Thanksgiving/Hanukkah and you are all now happily gearing up for Christmas/gift giving-season, if you're into that kind of thing. Here's what's been going on around Casa Casey lately:
First, we did have a delish and most pleasant Thanksgiving with a couple of vegetarian friends, our usual low-key celebration. I tried a few new dishes this year, including a veggie strata with a puff pastry crust that was as tasty as it was pretty.  My darling hubby has so many dietary requirements that it's sometimes a challenge to come up with versions of traditional dishes that are as yummy as the originals, but I think I did it with my butternut squash pie. I would challenge anyone to compare it to a regular pumpkin pie.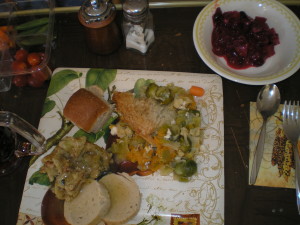 Second, I finally finished rewrites on the seventh installment in my Alafair Tucker series, which is called Hell With The Lid Blown Off. It has been approved for publication and will be launched in June of 2014. I call this one my tornado book, for it deals with the aftermath of a killer tornado in eastern Oklahoma, where the series is set. I figure you can't write a long series about Oklahoma and not have at least one book deal with a tornado.  Not if you want to be realistic, that is.  It took me a long time to finish HWTLBO. In fact, sometime I despaired. But it did get done, and it turned out very well, if I do say so myself.  I'll tell you more about it, Dear Reader, as launch time nears. Look for an excerpt to be posted on this very site in the future.  Here's a first gander at the new cover.  What do you think?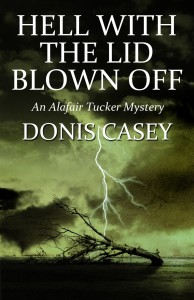 And last but not least, today is my sister Carol's birthday. She lives in Missouri and I live in Arizona, so we don't see one another in the flesh very often any more, but no matter.  We have been through a lot together.  In any event, here, immortalized in black and white, is the first time she and I ever met. Happy Birthday, Carol, and many more.