This month's giveaway is All Men Fear Me, An Alafair Tucker Mystery. To enter, click on "Contact", above and leave your email address. No one will see it but me. On December 18, I'll put all the entries in the Magic Cowboy Hat and draw the names of two winners.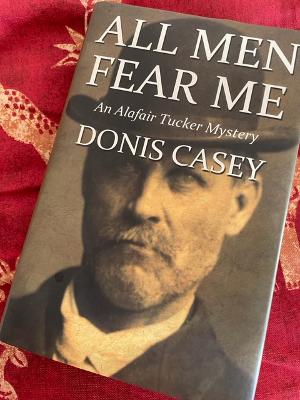 If you thought our country is the most it's ever been divided right now, think again! All Men Fear Me begins as the U.S. has finally entered World War I and scheduled the first draft lottery. No one in Boynton, Oklahoma, is unaffected by the clash between rabid pro-war, anti-immigrant "patriots" and anti-conscription socialists who are threatening an uprising rather than submit to the draft.
Alafair Tucker is caught in the middle, as always. Her brother is a union organizer for the Industrial Workers of the World. Her older son Gee Dub is sure to be drafted. Her younger son Charlie is wildly patriotic and horrified by his socialist uncle. And of course there are murders, neighbors spying on neighbors , sabotage, and a mysterious guy in a bowler hat who is hanging around town.
And what is it that all men fear? According to the propaganda poster plastered on the wall of the post office, it's Public Opinion, so you'd better watch out!
You can read an excerpt of All Men Fear Me by clicking here. Good Luck!