It's time for another entry in my monthly series of author essays called Tell Me Your Story, where I invite successful authors to share their life experiences and how those experiences have influenced their writing. November's guest is my friend and fellow historical novelist Karen Odden, whose latest release, Down a Dark River was just published on November 9. Karen writes evocative stories set in London in the 1870s, and believe me, you will care about her oh-so-human characters and find yourself immersed in the feel, look, smell of Victorian England.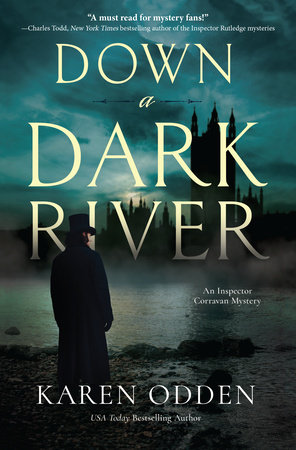 A lifelong bibliophile, Karen received her B.A. in English from Cornell University, her M.A. from the University of Michigan-Ann Arbor, and her Ph.D. from New York University, where she wrote her dissertation on Victorian literature and psychoanalytic theory. She has taught English literature at the University of Wisconsin-Milwaukee and served as an assistant editor for the academic journal Victorian Literature and Culture (Cambridge UP). Her essays have appeared in numerous books and journals, and her published mysteries are all set in Victorian England. Her first, A Lady in the Smoke, was a USA Today bestseller; A Dangerous Duet and A Trace of Deceit (2018, 2019, Harper Collins) won awards for historical fiction and mystery. Down a Dark River is the first installment of a new series featuring Irish Scotland Yard detective and former bare-knuckle boxer Michael Corravan. A winner of a grant from the Arizona Commission on the Arts and a member of Sisters in Crime and Mystery Writers of America, Karen lives in Arizona with her family and her ridiculously cute beagle-muse Rosy. Connect with karen at www.karenodden.com. 
The Secret Puzzles We All Carry
Karen Odden
One day when I was ten years old, I was at home, standing in the kitchen, when I heard a knocking on the door that led to the garage. Naturally, I opened it—
To find my father, crouched down on his knees, nailing some weatherstripping to the bottom edge of the door.
He looked up, his green eyes blazing. "What the hell are you doing? Don't open it!"
My heart in my mouth, frightened that he'd drop the hammer and wallop me, I closed the door hurriedly, wordlessly, and raced to my bedroom, hoping he'd forget what I'd done if I stayed out of his way for long enough. That sometimes worked. My father's anger was erratic; it flared and subsided over odd things, with no logic that I could ever apprehend. That night at the dinner table, my stomach was twisty and tight, wondering if he'd speak of how I'd almost ruined his project. How could he not? The episode was only hours old. But he never said a word.
I begin with this vignette because when I reflect upon my childhood—which is when I began scribbling stories in cheap spiral notebooks—this moment suggests the origins of my fascination with words and mysteries. As an adult, when I told a friend this story, she asked, "Why didn't he just put up a sign on the kitchen door, like, Don't open. I'm installing weatherstripping?" I couldn't say for certain. (Indeed, I never asked.) My guess is it wouldn't have occurred to him. These were only some of the words left unexpressed in my house.
This dearth of words created mysteries both large and small. Who was knocking? What was happening out there? What was weatherstripping, anyway?
Indeed, for much of my childhood, what other people in my house were doing and thinking and feeling was a mystery to me, with my father always the most puzzling. One summer night, he was out in the back yard, mowing the lawn with his red push mower. It wasn't a large lawn, small enough that when we played frisbee we had to keep the throws low and short, so it didn't fly over the neighbor's fence. But dusk was falling, and he pushed to finish. Then he came into the kitchen and slammed the door—hard. (Again, the kitchen door.) I was sitting at the table, reading, and I froze, watching. Then he opened the refrigerator and slammed it, shaking all the bottles in the door. My mother rushed in. "John! What's the matter?" He whirled on her, his face furious. She reached into the refrigerator and hastily poured a glass of orange juice. "Here, John. Sit down. Drink this."
Within five minutes, my father's entire demeanor changed. He seemed to emerge from a fog. "What happened?" he asked, looking at my mother and me.
"You had a little problem," she said gently.
"Oh." His face changed. Then he stood and went upstairs.
Not another word was said.
Some of you may recognize this for what it was: a low-blood-sugar episode. My father was a Type 1 diabetic, and for years I didn't really what caused his "little problems"—until I was thirteen and learned about diabetes in health class. I think my parents just assumed I knew. I'll own that my head was often in the clouds; I wasn't very observant. But I sensed nameless things amiss, which made me uncomfortable, wobbly, anxious. Once I understood my father was diabetic, there was yet another mystery: Should I interpret my father's explosive behavior as anger or low blood sugar? This uncertainty persisted until he died.
Indeed, it was only after his death, as I wrote A Dangerous Duet, about a gifted woman pianist, and thought about my father's genius at the piano, that I had some space to consider that one cause for his anger might be that he was a diabetic at a time when the condition was horribly frustrating and difficult to manage. There weren't insulin pumps or arm patches that allowed blood sugar to be checked with a wave of an iPhone. What had his diabetes kept him from doing? I wondered. Belatedly, perhaps I'd solved a bit of the mystery he had held close.
I've always known that books felt like a refuge, but not until I considered this aspect of my childhood did I understand specifically why: with books, the words created the world—so unlike in my childhood home, the words and the world matched. Does that make sense? Soon, I found myself striving to reproduce this "matching" for myself. I wrote stories, fumbling to put words to experiences that I had no names for. I filled notebooks with words that weren't being used in my house.
So how does this tie to why I write mysteries?
It is a commonplace of psychological thought that we repeat disturbing experiences in order to master them, to experience them with foreknowledge and anticipation instead of sudden fright, to change the ending, to alter their meaning.
It has occurred to me that writing mysteries is my attempt to re-do the drama of the kitchen door over and over again, to produce a different result.
As an adult, when I began writing fiction, I realized—as most emerging novelists do—that the situations in my head, the emotions of the characters, didn't always land on the page. When a reader says, "I didn't gather that from what you wrote," this makes me uneasy. I want the words on one side of the door to match what is happening on the other. It's not an infallible measure of whether my words have accurately conveyed what I intend to show of the world, but (rightly or wrongly) I feel I've come close when a reader says, "That's exactly how I felt when something similar happened to me!"
By the nature of their theme, mysteries provide this satisfaction repeatedly. With every chapter I write, I set up a small mystery to which I know the answer. With each mystery I read, I repeat the experience of uncertainty and anxiety followed—eventually—by certainty and relief. Perhaps this is one reason why mysteries have such wide appeal. For any of us who at times felt bewildered and frightened as children—and who of us didn't?—mysteries allow us to enjoy the arc from uncertainty to certainty about what is happening on the other side of the door, to feel reassured that it is possible, with time and curiosity, to understand the world and perhaps even the secret puzzles we all carry close, in our hearts.