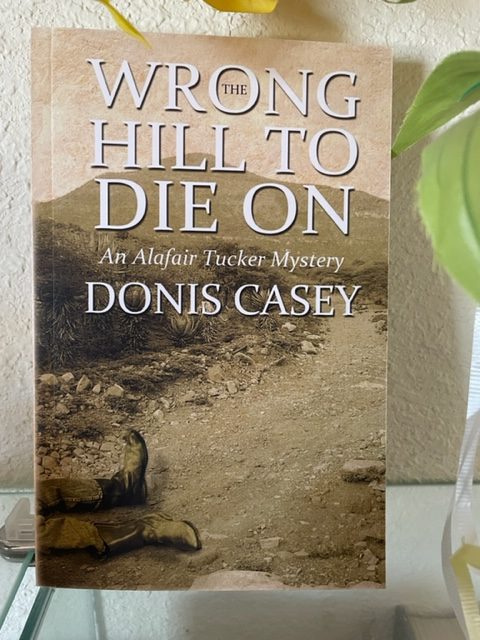 Happy May Day, and for those of you who celebrate Beltane, Blessed Be! This month's drawing is for a free paperback copy of The Wrong Hill to Die On, An Alafair Tucker Mystery. In fact, this novel is the one that features Alafair's daughter Blanche as a young child, who goes to Tempe, Arizona, with her parents in March 1916 and gets bitten by the movie bug, which gave me quite an idea for Blanche's future and led me to begin the Adventures of Bianca Dangereuse series a few years later with The Wrong Girl. There really was a silent movie being shot in Tempe at the time, and I love getting my characters mixed up in events that actually happened. We've also got Pancho Villa's murderous raid on Columbus, New Mexico, high tensions between Anglo and Latino communities, and an illegal operation to smuggle war refugees out of Mexico. It seems nothing much has changed in 100 years. See the end of this entry for instructions on how to enter the drawing.
In the meantime, here's the cover blurb for The Wrong Hill to Die On: "Alafair Tucker had not wanted to come to Arizona, but because of her young daughter Blanches' lung ailment, she and her husband Shaw bundled Blanche onto the train and made the nightmare trip from Oklahoma to Alafair's sister in Tempe, Arizona, hoping the drive desert air would help their daughter. As soon as they arrive Blanche begins to improve, and Alafair is overjoyed to see her witty, beautiful sister Elizabeth again. For added excitement a Hollywood motion picture company is shooting their movie right in Tempe. But Alafair soon discovers that all is not well … there's Bernie Arruda, dead on on his back in a ditch. The night before he had been singing Mexican love songs at the party in Elizabeth's back yard."
To enter the drawing, click on "Contact", above, and enter your name and email address. No one will see your address but me. I'll put your name in the magic cowboy hat and draw the winner's name on May 13. You can read an excerpt of The Wrong Hill to Die On here. Good luck!
p.s. on Saturday  May 21, from 1:00 pm to 3:00 pm, I'm presenting a free virtual writing workshop entitled Dialog, Dialect, and Voice – How to Make Your Characters Ring True. Please click on "Events", above, to get all the information on how to register. Hope to see you there!