It's one event after another when you have a new book out. If you're not appearing somewhere you're sitting in front of the computer writing to somebody about something having to do with your novel. I actually enjoy the events. The hours before the computer, not so much. However, there was a very nice interview with me that appeared on Feb. 7 on a site called Kittling Books. You can read it by clicking here. Cathy asked some really fun questions.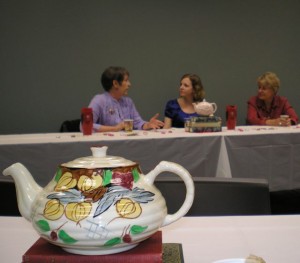 Last Thursday I did a Valentine's tea at Tempe Public Library with best selling historical romance writer Lauren Willig and my editor Barbara Peters. The Friends of the Library group sponsored the event. Lots of treats and a good time was had by all. Now, that's the kind of author event I like to do.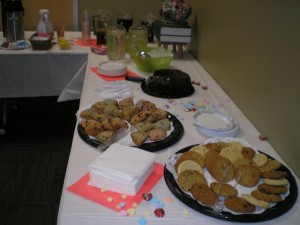 Lauren's book is called "The Orchid Affair".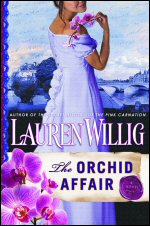 I have a couple of events later this month that I'm looking forward to. February 26 I'll be at Velma Teague Library in Glendale, talking about Crying Blood and visiting with my favorite librarian/book reviewer, the lovely Lesa Holstine. Then on the 27th, I'll be driving down to Benson, AZ, to the amazing Singing Winds Bookstore, which used to be a working cattle ranch (and still is, on a smaller scale.) It'll be a multi author affair – me, J. Carson Black, Elizabeth Gunn, Jeff Marriott, Susan Cummins Miller, and Jon Talton, with a barbeque lunch to boot. Check out the particulars on the Events page.
One more picture of me and Lauren – notice how her eyes are all aglow. Or is she shooting blazes at me?