I had a busy but productive weekend. Saturday Feb 26 I did a program at Velma Teague library for the inimitable Lesa Holstein, she of Lesa's Book Critiques, my favorite book review blog. She posted the most wonderful recap of my talk on the aforementioned blog that I don't think I can improve upon it, so I'd suggest that you read it yourself by clicking here.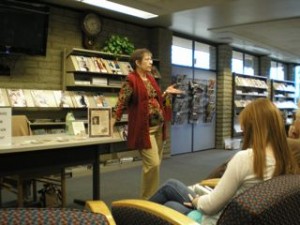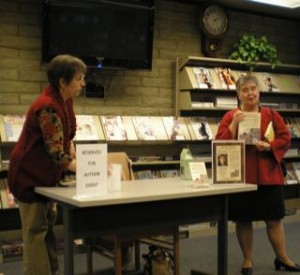 Then on the very next day, Sunday, Don and I drove down to Singing Wind Bookstore, which is the most remarkable bookstore ever, located just outside of Benson, Arizona, east of Tucson, on a working cattle ranch owned by Winn Bundy and her husband Joe. The event was called Mysteries Southwest, and there were four of us mystery authors who spoke – Elizabeth Gunn, Susan Cummins Miller, Jeff Marriott, and Yours Truly. A spectacular band called the Ronstadt Generation performed, and Winn provided a big old lunch with cake and everything. The first picture is Jeff, his wife Maryelizabeth Hart, Elizabeth Gunn, and Susan Cummins Miller. Second picture is Elizabeth Gunn and myself.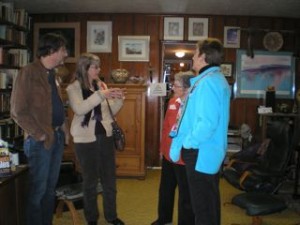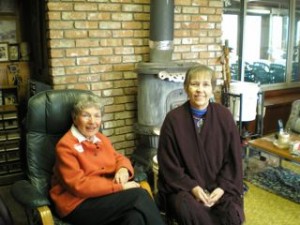 I'm in full PR mode for Crying Blood right now. In fact, there is a brand new guest post up this very day (Tuesday, March 1) that I wrote for The Unpredictable Muse. I get to be Ellis Vidler's very first guest blogger. I wrote not just about the new book, but about Boynton, where my series is set. Check it out by all means.
More stuff is coming. My next event is the Tucson Festival of Books, March 12 and 13. I'll be doing a panel on Saturday morning, called Unlikely but Awesome: Amateur Women Detectives, with Betty Webb and Juliet Blackwell,a followed by book signing, then in the afternoon I'm giving a workshop called Putting History in Your Mystery. Come by if you want to learn all there is to know about writing a historical mystery novel in one hour. Check out my "Events" page, above, for all the particulars. The Tucson Festival of Books on the University of Arizona campus is a remarkable gathering. Eighty thousand people attended last year's event to see over 300 authors.