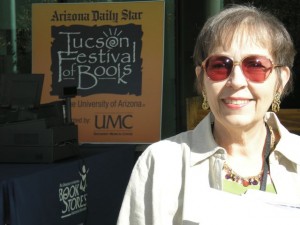 I spent last weekend working the 3rd annual Tucson Festival of Books, located on the campus of the University of Arizona. It was amazing – and exhausting. The preliminary estimates are that 100,000 people attended this year, and over 400 authors showed up to sign books, talk, and give panels and workshops.
Now, this is the third year I have done TFOB. The first year I gave a mystery-writing workshop and the second year I gave the same workshop and did a panel on historical mysteries with Jennifer Carrell. This year, I was asked to give my workshop on writing a historical mystery, and appeared on a panel about women sleuths with my friend Betty Webb and Juliet Blackwell, a lovely woman whom I had not met before.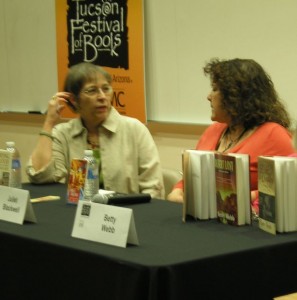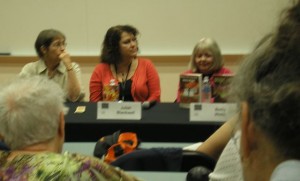 I also did five separate book signings, two for the festival, one for Sisters in Crime (below. That's Cara Black to my right), one for Clues Unlimited Bookstore (Tucson's mystery bookstore), and one for Poisoned Pen Press.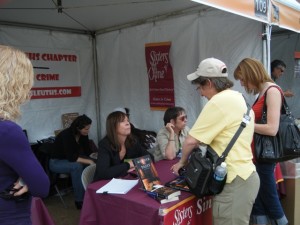 A couple of other items of interest – in a day or two, yet another guest blog of mine will appear on author Heidi Thomas's site. I particularly liked the way this essay turned out. Heidi asked me to write about how Alafair came to be, so if you are interested, and it's after March 17, click here.
Another nice review of Crying Blood appeared recently at mysteriesetc.blogspot.com. Here's an excerpt:
"As a history devotee I was impressed with the detail into which Donis Casey describes life in Oklahoma in 1915. I don't imagine that people today have any idea how much work it was to run a household one hundred years ago… But of course this book starring our sleuth and family matriarch Alafair Tucker is an excellent mystery as well… Twists and turns are easy to follow and lead to a very satisfying ending.
"I would highly recommend this book and if you can, get your children to read it, it will open their eyes to how "easy" they really have it these days! It is also an excellent way to learn or relearn American history."
Click on the link to read the whole review.
My next big event is coming up on March 27 – I'm off to Tucson again to appear on a panel at Clues Unlimited! That's three trips to Tucson in one month. Good thing gasoline is so cheap.*
__________________
*sarcasm alert