I have had updating this post on the top of my to-do list for weeks, but I'm in the Writing Zone right now so my to-do list doesn't get done in the timely manner I prefer.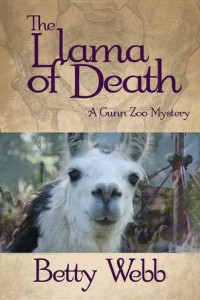 Here's what's up: Last weekend, Feb. 9, Don and I drove down to Tucson where I did a book talk and signing along with Betty Webb at the Clues Unlimited Bookstore.  You remember my friend and fellow Poisoned Pen Press author Betty Webb, don't you, Dear Reader?  She' writes the Lena Jones novels, a dark mystery series focusing on social issues, as well as the humorous Gunn Zoo series set  on the California coast and featuring zookeeper Theodora "Teddy" Bentley.  She was touting her latest zoo mystery, The Llama of Death.  Llama is the third installment of that series, following The Anteater of Death and The Koala of Death.  Check out Betty's website here.
And I, of course, was talking about The Wrong Hill to Die On, Alafair Tucker's sixth adventure.  As you know, the first five Alafair books were set in Oklahoma where Alafair and her family live, but   this time I decided to mix it up this time and had her travel all the way out here to the wilds of 1916 Arizona.  And in 1916, the trip from eastern Oklahoma to central Arizona was a hell of a trip.
In any event, it was a very nice outing.  We had a good crowd, and it was nice to see Chris Acevedo, the owner of Clues Unltd., after all this time. The talk was at 4:00 in the afternoon, and while Tucson is not that long a trip for me here in Tempe (about 100 miles), we decided to spend the night in a nice hotel there.  After all, this was my husband Don's first trip out of town since before the last health kerfluffle in the summer of 2011!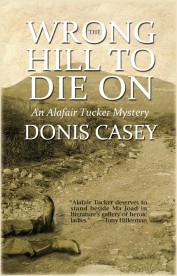 It was great.  We ate supper at my current favorite Tucson eatery, the Blue Willow, and slept in a giant fluffy bed that somebody else made the next day.  We liked the hotel well enough that we made reservations to stay there next month when we're in Tucson for the Tucson Festival of Books.  Now, if you are anywhere near the American Southwest on March 9 and 10, you should definitely come to this event.  There will be close to 400 authors of all sorts there, signing, presenting panels and talks and workshops.  I myself am appearing on a panel, moderating a panel, and presenting a workshop on writing historical novels.  The details are on the Events page.
Another interesting development is that I've been asked to speak to a book club in Coalgate, Oklahoma, in April, by Skype! The timing is intriguing since I had just spoken to another author friend of mine, Hannah Dennison, by Skype, and we talked about how handy Skyping for libraries and book clubs would be.  I'll let you know how the Coalgate talk goes.  But do consider the fact that you could now ask your favorite author to visit your organization without having to travel!  There are some good things about technological advances.
I've been doing quite a bit of blogging here and there, as well.  Most recently I did a piece for Historical Fiction e-Books called The Life and Times of Alafair Tucker.  I liked how it turned out.  You can read that by clicking here.  I've also returned to Type M 4 Murder, where I used to blog regularly before Don's health issues finally got in the way.  I'm doing a regular entry for Type M every other Thursday–next scheduled piece is Feb. 21.  Type M is an interesting blog on mystery writing featuring ten authors from all over the place–five Americans (New York, Maine, Kansas, Colorado, Arizona) an Englishwoman who lives in Oregon, three Canadians, and a Scot. If you're interesting in the writing life, or what we have to go through, click here.